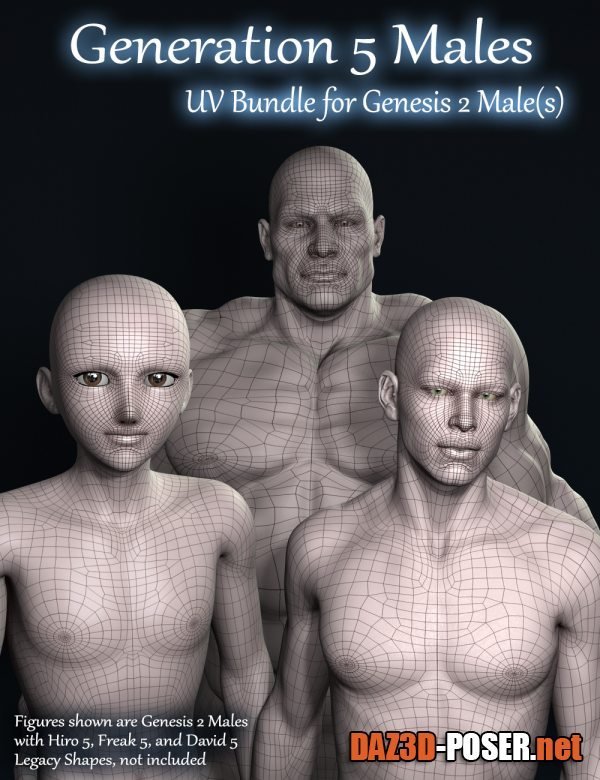 Image: Generation 5 UV Bundle for Genesis 2 Male(s)
Title: Bundles – Generation 5 UV Bundle for Genesis 2 Male(s) – download for Daz Studio or Poser
Description:
Genesis 2 Male comes with Michael 5 UVs included, and now you can complete your texture possibilities with this bundle of Hiro 5, Freak 5 and David 5 UVs.

This product contains the UV Sets for David 5, Freak 5 and Hiro 5. There are no user-facing presets or dials. Just load your favorite Generation 5 texture and the UVs will automatically apply. Tested in Poser 9 as well.

*Please note that presets must be saved in .DUF format before they can be used on Genesis 2 Male. Presets using .PZ2 or .DSA format can be converted manually or with 3rd Party products available in the DAZ Store.

**Some texture sets use Michael 4 UV Set for areas such as the eyes and mouth. You must own the Michael 4 for Genesis 2 Males product to apply these areas to your model, although the eyes may look fine without the Michael 4 UV set.

Home Page: _https://www.daz3d.com/generation-5-uv-bundle-for-genesis-2-male-s