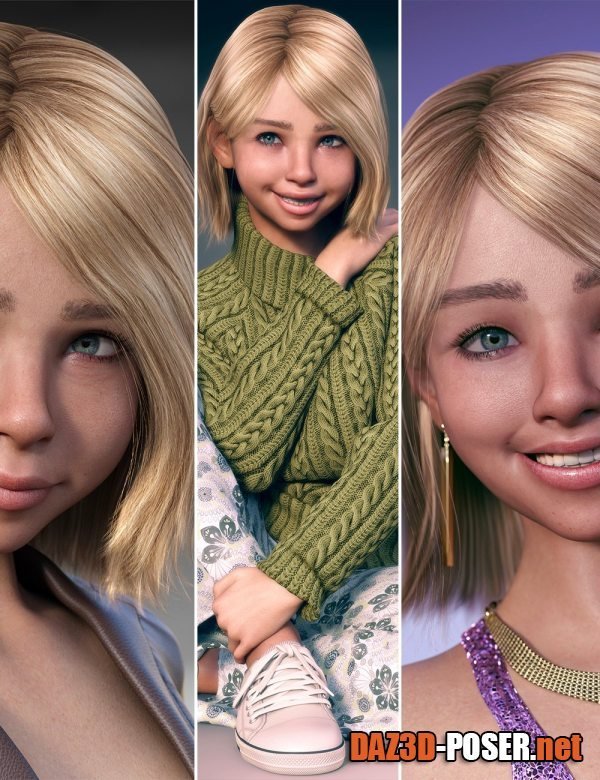 Image: Aurora Bundle for Genesis 9
Title: Bundles – Aurora Bundle for Genesis 9 – download for Daz Studio or Poser
Description:
Aurora is a teen girl with a heart full of adventure and a smile that can light up any room. Her bubbly personality and infectious laughter make her the life of the party, and her friends love spending time with her.

Despite her outgoing and adventurous nature, Aurora is also a fiercely loyal friend. She is always there for her friends when they need her, offering words of encouragement or a shoulder to cry on. Her positive attitude and upbeat energy are contagious, and her friends often turn to her for a boost of motivation when they need it most.

In summary, Aurora is a fun-loving teen girl who radiates positivity and energy wherever she goes. Her adventurous spirit and loyalty to her friends make her a beloved member of any social circle.

Aurora's hair is a fun and funky hairstyle for your Genesis 9 Females. This style is designed with layers that add texture and movement dials to customize the way it falls.

The included color presets can also add some funk, with realistic shades and bold and bright hues. This hairstyle is lightweight on polygon count making it quick and easy to use and is a perfect hair model for a cool and edgy look.

Aurora's outfit consists of trendy, athletic sneakers that include shader presets for a pop of color.

The chunky jersey is loose-fitting and cozy, made of thick-knit material. It has a turtleneck with oversized sleeves that gather at the wrists. The included color presets complement the other clothing items perfectly.

The flared workout pants are stretchy and comfortable, with a wide waistband that sits low on the hips. The flared legs flow loosely around the ankles, creating a flattering silhouette and allowing plenty of room for movement. The included shader presets add an extra level of customization.

Together, these pieces create a fashionable yet practical outfit that's perfect for a casual day out. The bold colors and textures make a statement, while the loose fit of the jersey and pants ensure comfort and ease of movement.

Aurora will be a wonderful addition to your 3D Library!

Home Page: _https://www.daz3d.com/aurora-bundle-for-genesis-9