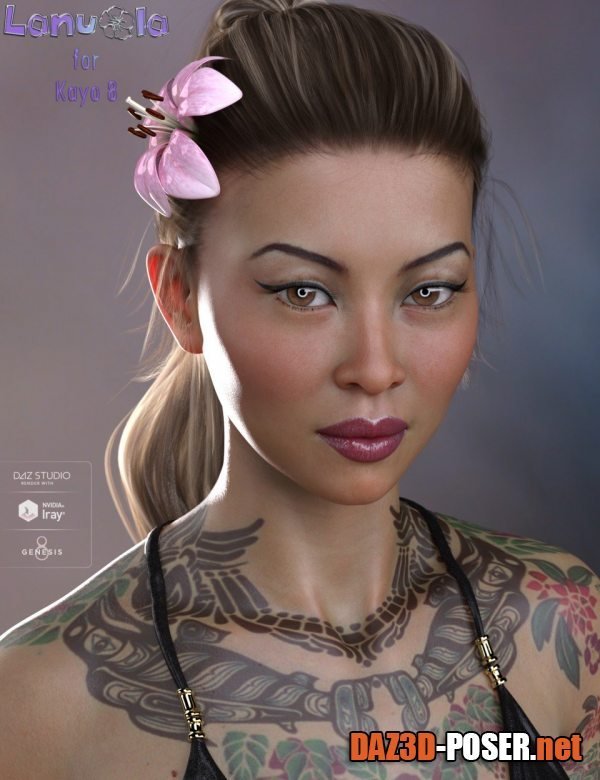 Image: Lanuola HD for Kayo 8
Title: Characters – Lanuola HD for Kayo 8 – download for Daz Studio or Poser
Description:
Lanuola is more then a pretty face, she's a spunky little spitfire and a worthy adversary for Kayo 8 in the wrestling ring!

Lanuola HD for Kayo 8 is an entirely new character featuring an ultra-detailed skin by Morris and a custom-sculpted HD Head and Body by Emrys built off the Kayo 8 Shape.

This Polynesian beauty includes a tattoo option inspired by her homeland, has longer custom nails and lashes, detailed fiber mesh brows that adds depth to the face textures, plus a specially raised cornea morph that allows the light to reflect her eyes more accurately in renders.

The textures were built from photos, not from a resource, and includes 5 stunning Make-up options (with and without eyebrows), 4 gorgeous realistic eye colors, painted and french manicured fingernails and Iray skin materials that bring her to life!

Lanuola HD for Kayo 8 will be your new favorite character, no matter your fans (or plans).

Home Page: _https://www.daz3d.com/lanuola-hd-for-kayo-8