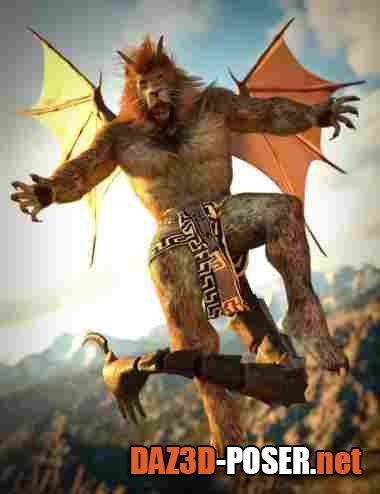 Image: Manticore HD for Genesis 8.1 Male
Title: Characters – Manticore HD for Genesis 8.1 Male – download for Daz Studio or Poser
Description:
At the foundation is a lion-man morph that could easily stand as an independent product. A muscular HD body shape works in conjunction with hidden proportion tweaks to deliver an imposing figure with powerful claws and a detailed face. Intricate fur textures shine on a bespoke UDIM tile texture set, powering layers of dForce fur. FiberMesh whiskers and brows complete the look.

Conforming wings disappear into the fur on the back without the use of geografting. These solid wings can be individually posed and positioned on the Genesis 8 Male, or they can be applied and parented onto the chests of other figures (a full manticore wearable preset is included for Millennium Big Cat 2). Unlike earlier Joequick wings, the membranes are part of the main mesh, allowing for greater use of dForce in creating compelling simulations.

A separate HD socket morph can be found on the head to integrate the Manticore horns into the Genesis 8 Male cranium. When used with a non-leonine head, these same horns create a unique look.
Home Page: _https://www.daz3d.com/manticore-hd-for-genesis-81-male