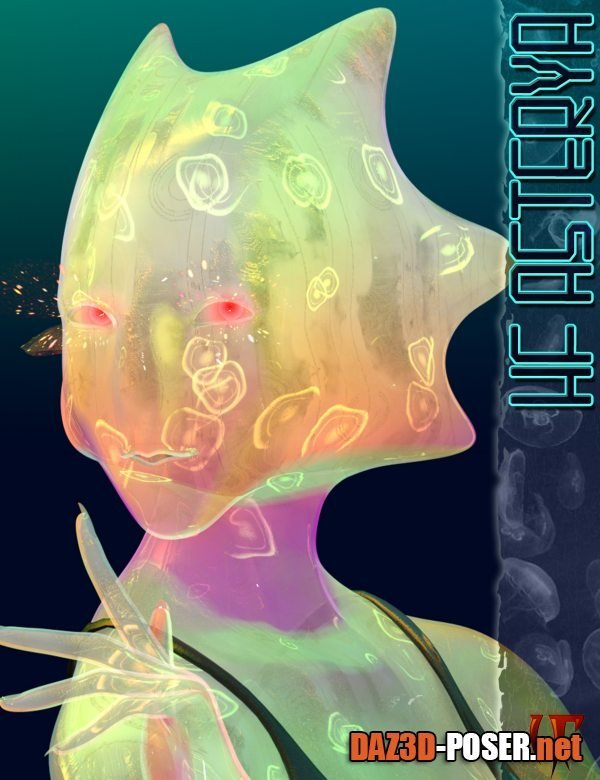 Image: HF Asterya for Genesis 8 Female
Title: Characters – HF Asterya for Genesis 8 Female – download for Daz Studio or Poser
Description:
Asterya is a creature of pure light dwelling in deep space.
Her body and head morphs are independent of other morphing packages and can be used without additional products.
She comes with a set of diable morphs, including fingernails, toenails, nipples, genitalia and 2 breast shapes. Her unique head morph is provided with 54 additional adjustments for enhanced posing and expressions.
Her translucent skin is provided by the combination of the base mesh with 2 geoshells (1 under and 1 over), granting 11 color variants (geoshell 1 over the skin) and the chance to modify the density and the thickness of the dermal decoration (geoshell 2, under the skin). The character's eyes come in 2 variants (differing by transparency) and 6 color options. The set is completed by different luminance options changing the lighting of the character.
The same color options are available for the eyelashes, along with an additonal enlarging morph and an original sparkle-like opacity option,
Note: the character is visible in Iray only.
Home Page: _https://www.renderosity.com/rr/mod/bcs/hf-asterya-for-genesis-8-female/156575/