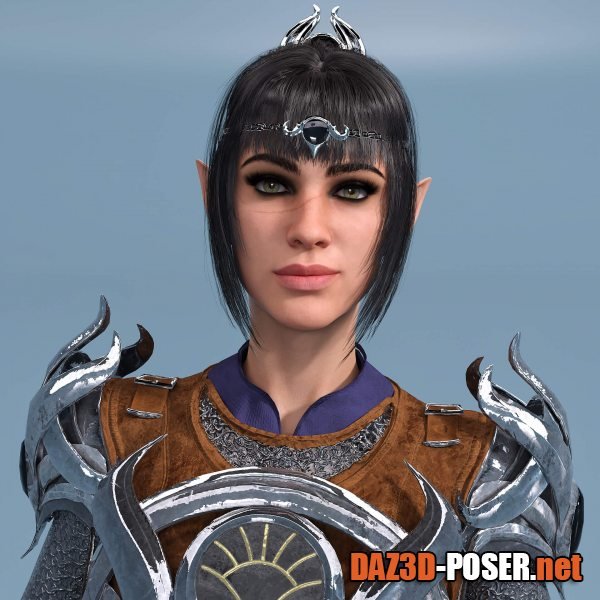 Image: Shadowheart for Genesis 8 Female & G8.1 Female
Title: Characters – Shadowheart for Genesis 8 Female & G8.1 Female – download for Daz Studio or Poser
Description:
"Pain. Hope. The promise of better days. All of these are heavy cloaks that bend our backs and burden our hearts"


Shadowheart from the game Baldur's Gate 3 for Genesis 8 and 8.1 Female.


This product contain:

Character:

- Shadowheart for Genesis 8 and 8.1 as separated scene subsets, equipped with hair and eyebrows.

- Shadowheart Body and Head Morphs apply and remove preset (Morphs: DUM Shadowheart Head / DUM Shadowheart Body)

- Shadowheart Ears Morph apply and remove prese (Morph: DUM Shadowheart Ears)

- Shadowheart Skin

- 5 Shadowheart Makeup Options (Makeup 01 is the closest to the game version)

- 5 Shadowheart Lipstick Options (Only visible on Iray)

- Shadowheart Lipstick Gloss On/Off (Only visible on Iray) (Apply after the Lipstick Color)


Hair:

- Shadowheart Hair (4 Bones for the tail + Bones on each side)

- 2 Shadowheart Hair Materials (Black and White)

- Shadowheart Eyebrows


Outfit:

- Armor Outfit Preset
- Camp Outfit Preset
- Nightsong Underwear Preset

Armor Outfit:
- Armor (Tasset with bone)
- Arms (Separated from the armor, can be a gap in certain poses under the armpit)
- Pants
- Boots

Camp Outfit:
- Camp Top
- Camp Pants
- Camp Sandals

Nightsong Underwear:
- Nightsong Bra
- Nightsong Panties


Weapon:
- Mace
- Shield
(Both automatically apply hand pose and are attached to it, to use them freely as a prop deselect your character and apply it)


Everything comes with 4K high quality textures to enhance your renders.

Home Page: _https://www.renderhub.com/dumitas/shadowheart-for-genesis-8-female