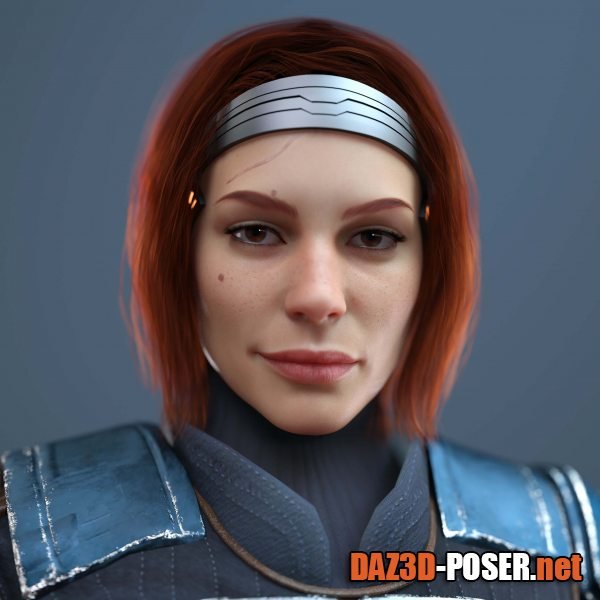 Image: Bo-Katan for Genesis 8 Female
Title: Characters – Bo-Katan for Genesis 8 Female – download for Daz Studio or Poser
Description:
The Queen of Mandalore has returned! (It's now Disney princess?)


Bo-Katan Kryze from Star Wars universe, based on the look of the serie The Mandalorian with a mix of previous iterations for Genesis 8/8.1 Female.


This product contain:

Character:
- Bo-Katan for Genesis 8 and 8.1 as separated scene subsets.
(full equipped with hidden helmet)
- Bo-Katan Body and Head Morphs apply and remove preset (Morphs: DUM Bo-Katan Head / DUM Bo-Katan Body)
- Bo-Katan Skin
- Bo-Katan Eyebrows
- Bo-Katan Hair
The hair doesn't contain bones but does contain morphs for Left/Right/Back in-out and two extra morphs of longer and shorter.
+ 2 Different Materials for Hair (Redhead and Auburn)


Outfit:
- Complete Outfit Preset.
- Armor
The armor comes with Jetpack attached to it, it's a separated object and you select the node to rotate or move it freely based on your pose.
- Jetpack
The jetpack loads automatically with the armor, it contains 2 morphs that allow to display thrusters, on the sides or in the middle, both can worth at the same time.
- Boots
- Gloves
- Helmet
The Helmet comes with a bone on the visor, you can rotate by selecting it
- Pants
Pants will load the Equipped Blasters and the weapon holsters as separated items that you can move and rotate if needed for certain poses.
- Blaster
It load a separated Blaster, it's not parented you can move it and pose as needed.
- Dark Saber
This items is full display if you want to only use the hilt go to surface select "Blade" and set Opacity to 0.

+2 Bonus Extra materials for the armor, New Beskar similar to Din Djarin and Dark Beskar similar to Moff Gideon.
Those are just a bonus, select the character to apply the material.


Tips and Fixes:
- The helmet get deformed with Bo-Katan Head, there is a morph to fix that 'Fit Helmet' or you can opt of the head morph since it's not visible when using the helmet.
- The Armor contain a small morph fix when using with Bo-Katan morphs called 'Expand Neck' to fix a small clip happening with those morphs.
- The Armor contains the necessary corrections (pJCM) but in case you need to rise the arms way up it will generate a new one to fix that there are two extra morphs 'Left/Right Arm Up Fix'
- The outfit was designed with Genesis 8 in mind (or 8.1) so with other morphs get deformed, if you're going to just render her with full armor and helmet, I recommend to use default Genesis morphs, since the difference is minimal and morphs will generate unwanted deformations.
- If you're using full outfit, you can select and hide the character on Parameters to optimize the scene, that will avoid loading the character textures and save memory, again since the character is not visible there's no need for loading it.


Everything comes with 2K/4K high quality textures to enhance your renders.
Home Page: _https://www.renderhub.com/dumitas/bo-katan-for-genesis-8-female