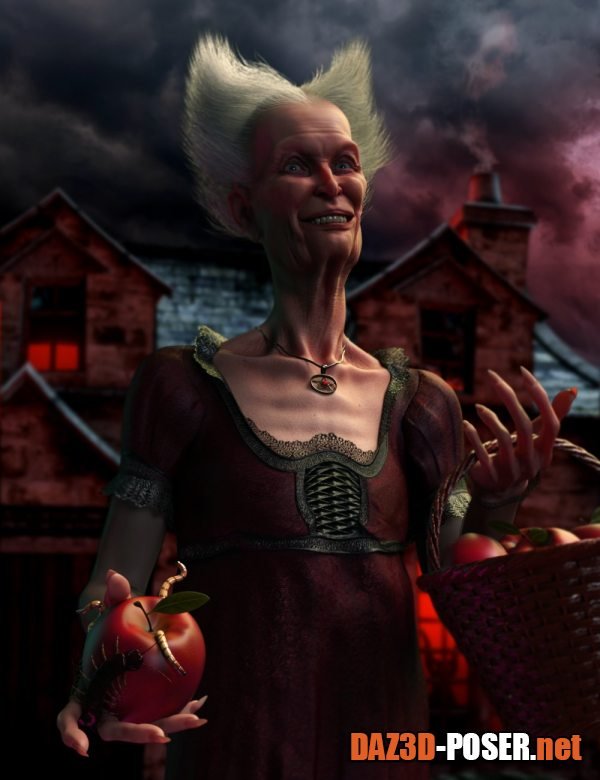 Image: Madam Wickd for Genesis 8.1 Female
Title: Characters – Madam Wickd for Genesis 8.1 Female – download for Daz Studio or Poser
Description:
She is a sweet old lady next door, nothing but nice to anyone who knows her. She may invite you in for a cup of tea, but a weird sensation will occur fast, and you can realize that something strange lurks in her house. Actually, Madam Wickd is hiding something about her true nature. Something really frightening!

Madam Wickd for Genesis 8.1 Female is an aged lady character equipped with monster morphs, hand-sculpted and painted for Genesis 8.1 Female. She comes with 4 levels of HD details, separated body and head morphs, 6 eye colors, 3 overlay makeup maps, 1 bloody overlay map, a 3D-fiber wig (131,262 polygons, for Madam Wickd Head morph only), flat-breast morph, and 3 horrifying morphs for her mouth and tongue.

Madam Wickd is a perfect solution when you need a witch in your artwork. Send her in the medieval era and start a war between good and evil forces. Put her on a ceiling and let her walk like a spider, or turn her into the nurse of your worst nightmares. Whether past or present time, it's always a good time for a horror story. Get Madam Wickd for Genesis 8.1 Female today and let your characters have tea with this sweet granny.

Home Page: _https://www.daz3d.com/madam-wickd-for-genesis-81-female