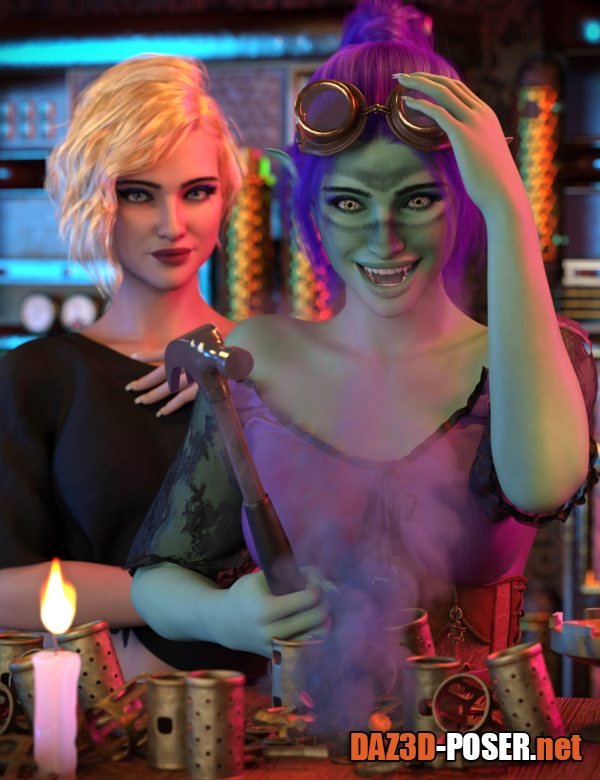 Image: CC Jynksie for Genesis 9
Title: Characters – CC Jynksie for Genesis 9 – download for Daz Studio or Poser
Description:
CC Jynksie for Genesis 9 is a Genesis 9 character with a greener side. She comes with two full-base skins that takes advantage of the PBR skin shader (both complete with male and female anatomical elements) and each has a masculine variant skin option as well. She has custom breast shaping for both clothed and unsupported shapes that can be used separately (and with other characters).

She has two sets of her own card-based brows (one more feminine and one more masculine) and 23 materials options.

She also has optional fibermesh Anatomical Elements hair that also has 23 color set presets to match. Also included are masculine shaping presets to round out her personality. She has 2 eyelash styles (feminine and masculine) with 23 colors to match her brows and other hair.

Jynksie has 26 eye material options, which include 21 regular eye colors, 2 solid eyes, a black sclera option, and the option to add emissives to her irises.

She has 4 eye shadow styles with 26 color options and a lightener and darkener additive.
Home Page: _https://www.daz3d.com/cc-jynksie-for-genesis-9