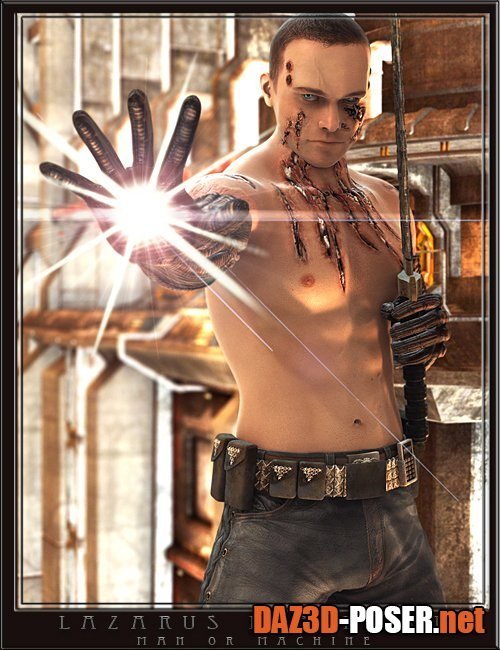 Image: Lazarus Post Apocalyptic
Title: Characters – Lazarus Post Apocalyptic – download for Daz Studio or Poser
Home Page: _https://www.daz3d.com/lazarus-post-apocalyptic
Description:
In a post apocalyptic world, only the strong survive! Lazarus rises from the dead, his scarred and torn flesh revealing the machine beneath. A man and a machine, a hero of battles past, and a resistance fighter for the war still yet ahead!

The Lazarus Post Apocalyptic pack comes with tons of options, from natural skin, before the battle, to scarred and torn flesh. He has multiple facial hair and head hair options, plus a tattoo option. He's the perfect cyberpunk warrior ;-)

Lazarus Post Apocalyptic is a standalone package for M4, however many aspects may be mix and matched with the original Lazarus for M4. He includes DAZ Studio and Poser 7 and above MAT poses. For best possible rendering, be sure to turn off texture filtering in Poser. And, note that the metal head textures are meant only to be used with the scarred/metal torso and limbs textures.

Download links: