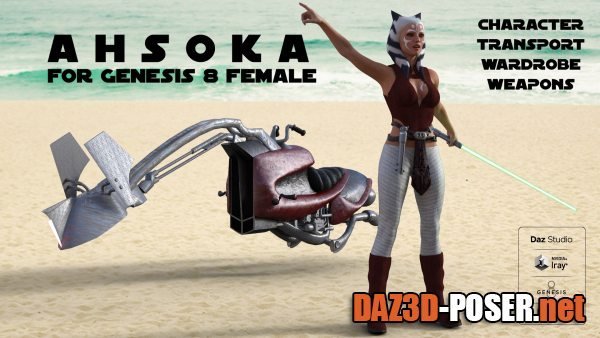 Image: Ahsoka For Genesis 8 Female and Daz Studio
Title: Characters – Ahsoka For Genesis 8 Female and Daz Studio – download for Daz Studio or Poser
Home Page: _https://www.renderhub.com/monika/ahsoka-for-genesis-8-female-and-daz-studio
Description:
Ahsoka for Genesis 8 Female comes with Iray material preset and attachments, incl. Genitalia, Lekku, Transport -- a Speeder in a Hover Mode, Weapons -- a LightSaber, Outfit -- Wardrobe and Accessories, and more. Enjoy.

PRODUCT REQUIREMENTS AND COMPATIBILITY
Programs Required: Daz Studio 4+ / NVidia IRAY / Genesis 8 Female Starter Essentials Pack.
Download links: