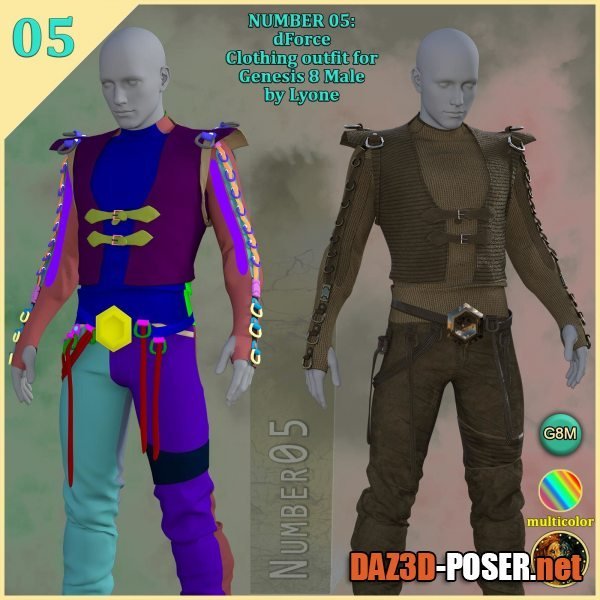 Image: Lyones dForce Number 05
Title: Clothing – Lyones dForce Number 05 – download for Daz Studio or Poser
Description:
Lyones dForce Number 05 is a science fiction/fantasy outfit for Genesis 8 Male.

This produst is a dForce product but you can use the pants, the top and the belt without dforce.
The vest will give better results with dforce.
You get two belts in this package (Belt dForce and Belt STATIC). Belt dForce is for dforce scenes. Belt STATIC is for non dforce scenes.

Belt dForce will give you a fast result with almost any poses but you can't customize the belt so much and some poses like sitting poses can deform the buckles. If you render people wearing the belt in a bakground or normal foreground, you definitely want to use this belt because it works all by itself in one simulation click. If you want a closer or extreme close render with a sitting pose and/or you don't want any deformations on the buckles, you should use Belt STATIC. With this belt, you will be able to customize each buckle and the straps which have bones. But customizing them costs time and you will need some patience. So the ones who want a fast solution should use Belt dForce at first hand.

There is one Lyone's simulation setting in this package but use it only if you're not satisfied with the default simulation.
Home Page: _https://www.renderosity.com/mod/bcs/index.php?ViewProduct=140089