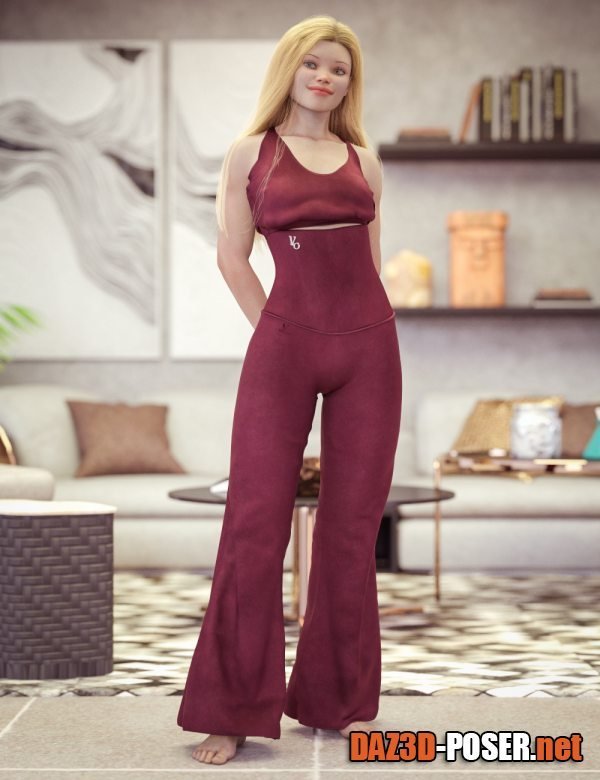 Image: Verse Outre Outfit for Genesis 8 and 8.1 Females
Title: Clothing – Verse Outre Outfit for Genesis 8 and 8.1 Females – download for Daz Studio or Poser
Description:
This is the same versatility its predecessors, Verse Moi and Verse Ode, also have and which renders all of them extremely versatile: ranging from very casual, everyday clothes to posh and elegant or trendy loungewear and beyond.

Outre features a high-waist pair of pants and a soft, short top/bralette that folds on itself. As an accessory, a metal logo can be placed on various parts of the pant waistband.

Included is an elegant, velvet style in claret and silver and basic cottons (white, gray, and black). All the styles are realistic-looking PBR materials that look great both from a distance and up close, so your character will always look like they are wearing actual clothes.

Texturing details that make a difference, such as displaced details, seams, embroidered logos, and little imperfections, are present as usual.

The cotton comes in black, gray, and white to be more easily customizable by changing the base color. Included are 85 preset colors to easily customize any of the styles to fit any setting. The colors for the pants are also available for pants only and band only, so you can mix and match to create interesting combinations.
Home Page: _https://www.daz3d.com/verse-outre-outfit-for-genesis-8-and-81-females