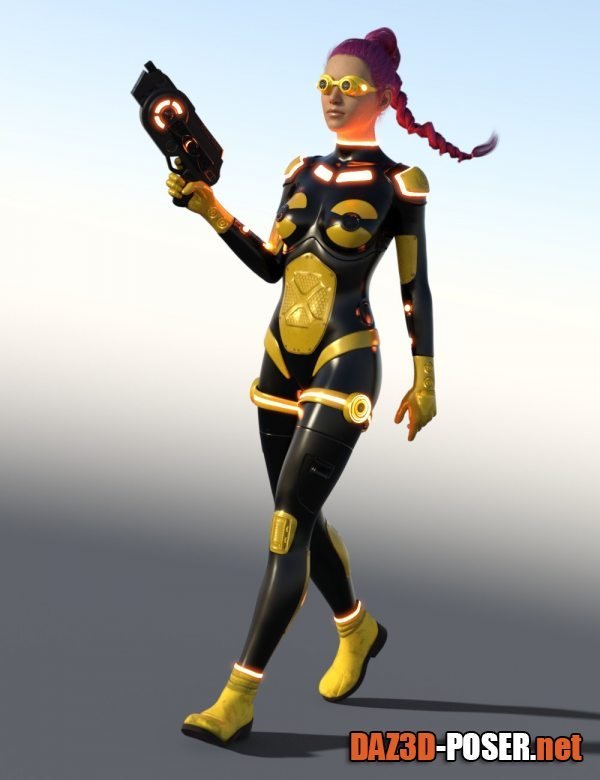 Image: Alpha One Ghost Outfit For Genesis 8 Female(s)
Title: Clothing – Alpha One Ghost Outfit For Genesis 8 Female(s) – download for Daz Studio or Poser
Description:
Alpha One Ghost Outfit For Genesis 8 Female, is a 5 piece set of clothing, bodysuit, boots, gloves, goggles, and holster, plus a laser blaster.

This SciFi suit is unique in that each body part of the whole suit can be individually colored to the artists desire.

The bodysuit has material zones, Arms, Arms inside top, Arms lights, Breastplate, Breast plate bottom, Breast plate lights, Breastplate top, Knees, Lower legs, Lower legs back, Neck light, Shoulder pad, Shoulder pad inside, Shoulder pad light, Torso, Torso back, Torso belt, Torso middle, plus the gloves, boots, goggles, and holster can all be colored individually.

Alpha One Ghost Outfit For Genesis 8 Female also comes with three texture presets that apply a completely different set of normal, height and roughness maps for the body suit, then for each alpha set there are a total of 16 color presets for the user to chose from.
Home Page: _https://www.daz3d.com/alpha-one-ghost-outfit-for-genesis-8-females