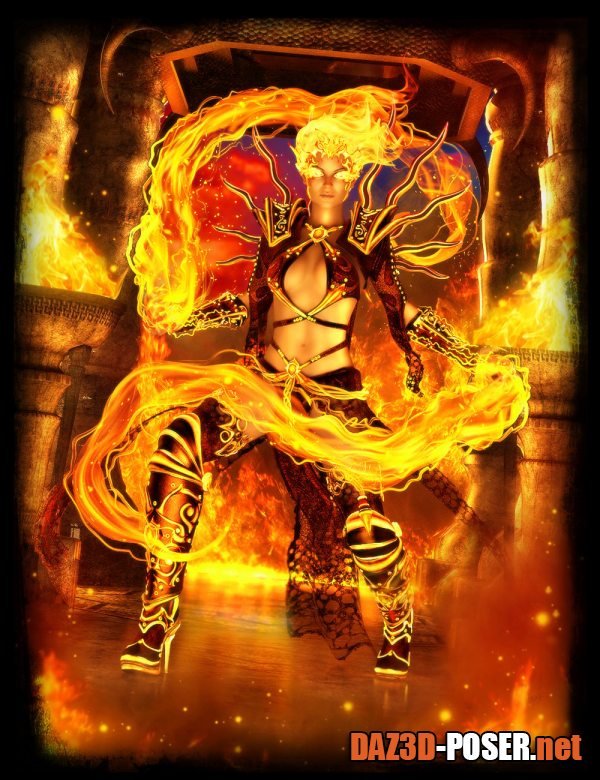 Image: dForce Invictus Sol Outfit for Genesis 8 Female
Title: Clothing – dForce Invictus Sol Outfit for Genesis 8 Female – download for Daz Studio or Poser
Description:
There are forces of great power that exist. From Necromancers, who raise the dead to do their bidding... to the greatest sinners of magic, who control and wreak havoc. But none are more feared than Di Inferi: Gods of the Underworld, who wield flames.

Invictus Sol (Unconquerable Sun in Latin) is at its core, a fantasy outfit that is fit for Sorcery or Necromancy, or even a warrior as you choose. It is a little bit of arcane magic and armor combined. But with the flames included and special modes, you can turn this sorceress into a powerful pyromancer that burns with the heat of the sun.

The set includes a 10 piece outfit that is dForce compliant. So you can choose to use the epic windblown look that the included poses will yield, or you can simulate it for a more dynamic appeal. There is also a fire staff included, as no sorceress would be caught dead without it! Finally, there are flame conformers for her head, eyes and hands that are included as well, to turn her into a full-blown pyromancer.
Home Page: _https://www.daz3d.com/dforce-invictus-sol-outfit-for-genesis-8-female