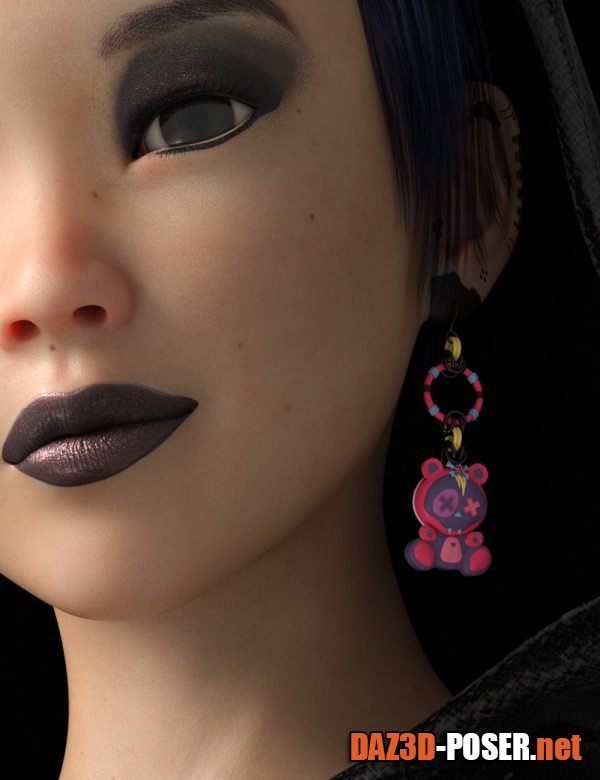 Image: Anarchy Ghouls Earrings for Genesis 8 Females
Title: Clothing – Anarchy Ghouls Earrings for Genesis 8 Females – download for Daz Studio or Poser
Description:
Delectable handmade ghoulish wearables for everyone. Horror business party, misfit punks, and goths alike.

Every day is Halloween!

The 3 chainring pieces that are used and included in this content are from the Interlinked 2054 set reused here in this pack. The main chainring in the product images is the only one used in the 3-piece combo of Ghoul, Chainring, and Hook - and there are 12 pairs of these for each separate Ghoul. Also included are 12 pairs of Ghoul plus Hook, minus the chainring.

For the Ghoul Basic and Pastel material presets there are two versions: one created for the eye patch Ghouls and one for the no eye patch Ghouls.

The chainring presets can also be used in conjunction with the chainmail earrings in Interlinked 2054 as bonus content. Incidentally, the chainmail rings in Interlinked 2054 are also a set of earrings unto themselves.

The Ghoul, Chainring, and Hook earring wearable combinations have pivot points set so each section can be adjusted depending on the tilt of the head.

Riding along is only one default normal map to give the surface some roughness so it's not completely smooth.

Home Page: _https://www.daz3d.com/anarchy-ghouls-earrings-for-genesis-8-females