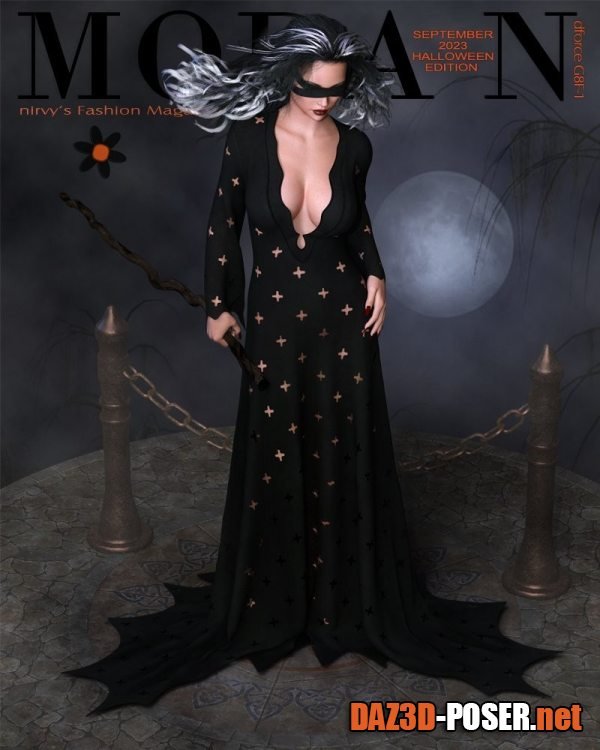 Image: dForce October Justice G8F_G8F.1
Title: Clothing – dForce October Justice G8F_G8F.1 – download for Daz Studio or Poser
Description:
October Justice

All Hallows' eve once again.
The Holy night when all that is hidden is seen.
Blind she may be but she sees it all. October Justice ready to judge. Are you afraid?
She stays above throughout the year, silenced at times, she cries for you.
She sees the loss this world has found. Her woes abound.
Tonight she will walk slowly amongst you unseen, her Justice stick in hand, to punish the unjust, to give hope to others.
Hide if you must, no protection will the darkness give.
She sees in the dark. She judges all.
Her curse placed, defying the heavens, will be your last breath taken.
Will it be her final judge and jury for us all?

dforce October Justice G8F_1

• G9 Not Tested.

Included:
• 1 dforce Dress G8F_1
• 1 Band G8F_1
• 2 dforce Wearable Sets G8F_1
• 1 Stick Prop
• 1 Parented Stick L G8F_1
• 1 Parented Stick R G8F_1
• L + R Parented Stick Hand Poses G8F_1 + REM
DRESS:
• 6 Mat Presets + Easy to see (including derivatives of the same)
• 8 Transparency Mat Presets
• 6 Shader Presets
BAND:
• 6 Mat Presets + Easy to see
• 1 Hide Mat Preset
STICKS:
• 4 Mat Presets
• IRAY Material Presets only
~.~
• 3 G8F_1 Breast Cleavage Shape + Rem
~.~
DRESS:
• 4 One Click BS Morph Injections + Restore BS
• 4 One Click WIND Morph Injections + Restore WIND
• 1 One Click DNS Morph Injection + Restore DNS + Restore Trans
• Restore All Morphs + Restore Dynamic + Restore All 1 Click Morphs
• 13 Surface Presets + Default
• 3 Partial Surface Presets
Prop STICK ONLY:
• 4 One Click Scale & Trans Morph Injections + Restore All Morphs + Restore Dynamic + Restore Scale + Restore Trans
~.~
• 5 Simulation Settings + DS DEFAULT
~.~
• DRESS Optimized G8F/G8F.1:
CTRLBodybuilder
FBMAngharad8
FBMBonnie8_1
FBMBrooke8_1
FBMHeavy
FBMJacqueline8_1
FBMLatonya8
FBMLeisa8
FBMMillawa8
FBMMonique8
FBMOlympia8
FBMPearFigure
FBMRosaMaria8_1
FBMTwosret8
FBMVictoria8
FBMVictoria8_1
FBMVoluptuous
PBMAugust8_1BreastsLarger
PBMBreastsCleavage
PBMBreastsHeavy
PBMBreastsShape01
PBMBreastsShape02
PBMBreastsShape03
PBMBreastsShape04
PBMBreastsShape05
PBMBreastsShape06
PBMBreastsShape07
PBMBreastsShape08
PBMBreastsSize
Others will fit through AutoFollow and/or with the help of the dynamic morphs.
~.~
•DRESS Dynamic Morphs:
BS Default Fall
BS Off Shoulders
Back Glutes In
Back Out-In
Back Thighs In
Back Up
Bottom Lift
Bottom Pull
BottomBack Lift
BottomBk Lift
BottomBk Pull
BottomFr Lift
BottomFr Pull
BreastL Cover
BreastR Cover
BreastSideL Adjust
BreastSideR Adjust
Breasts Adjust1
Breasts Adjust2
Breasts Cover
Breasts Show
BreastsUnder Adjust
Collar TipsBot Adjust
Collar TipsBot Adjust2
Collar TipsBot Out-In
CollarBk High
CollarBot Attach
CollarFix
CollarSides Open
DNS to Floor
Front Out-In
Raise 4 Collision Floor
Raise 4 Collision Floor2
Sit Helper
Skirt Rotate
SleeveL Inner Adjust
SleeveR Inner Adjust
Sleeves Up
Spread L
Spread R
TrainBottomL Lift
TrainBottomR Lift
TrainL Out-In
TrainR Out-In
WIND Back to Bk
WIND Up
WIND to L
WIND to R
•BAND Dynamic Morphs:
Ears Adjust
Front 4 Lashes
Front 4 Long Lashes
HeadTop Tight
Strap1 Adjust
Strap2 Adjust
Straps Adjust
Straps Tight
•STICK Dynamic Morphs:
Bend Bottom
Bend Middle
Bend Top
Bend Top2
Horizontal
~.~

† The complete content is shown in the promotional images above however all possible variations are not.†
Please see Read me for important info and to get the best out of this product.

Rendered in DAZ Studio 4.21 IRAY
No touch-ups.

† Only the Dress, Band & Sticks are included.†
Thank you for your interest in my products.
Home Page: _https://www.renderosity.com/marketplace/products/161458/dforce-october-justice-g8f-g8f1