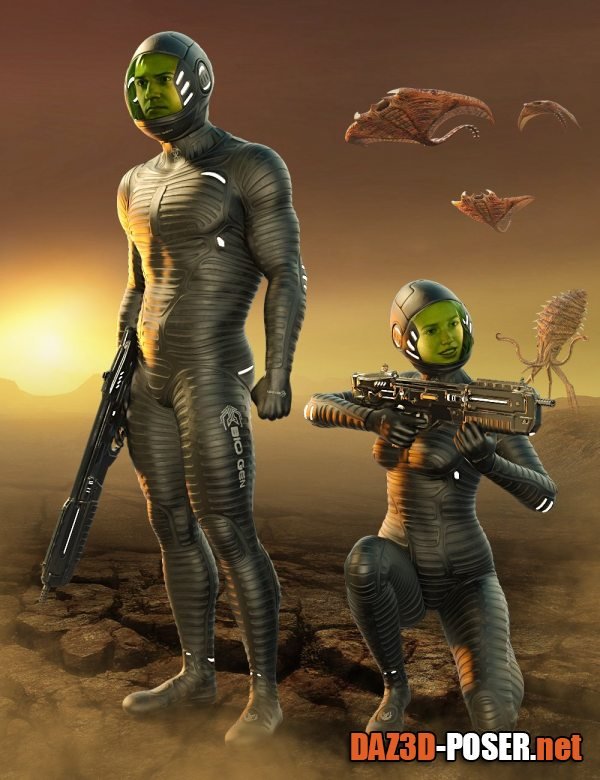 Image: Biogenetic Suit for Genesis 9
Title: Clothing – Biogenetic Suit for Genesis 9 – download for Daz Studio or Poser
Description:
Elevate your Genesis 9 experience with the revolutionary "Biogenetic Suit for Genesis 9", a meticulously crafted ensemble designed to immerse your characters in the realm of advanced science fiction. This exceptional suit encompasses a full-body suit, gloves, and a helmet, ensuring an unparalleled level of detail and versatility in your creative endeavors.

With five meticulously curated material presets, the Biogenetic Suit offers an array of customizable aesthetics to suit your artistic vision. Furthermore, we provide you with the option to seamlessly disable the logo design, allowing you to tailor the suit's appearance to your specific preferences and narrative requirements.

One of the standout features of the Biogenetic Suit is its universal compatibility, guaranteeing a perfect fit for any Genesis 9 character. Moreover, this remarkable creation is engineered to remain future-proof, assuring compatibility with forthcoming Genesis characters, thereby safeguarding your investment for the long term.

Ideal for a wide range of science fiction scenes, the Biogenetic Suit for Genesis 9 sets the stage for futuristic storytelling, offering endless possibilities for your creative projects. Elevate your storytelling and character development to new heights with the Biogenetic Suit - a must-have asset for sci-fi enthusiasts and digital artists alike.

Home Page: _https://www.daz3d.com/biogenetic-suit-for-genesis-9