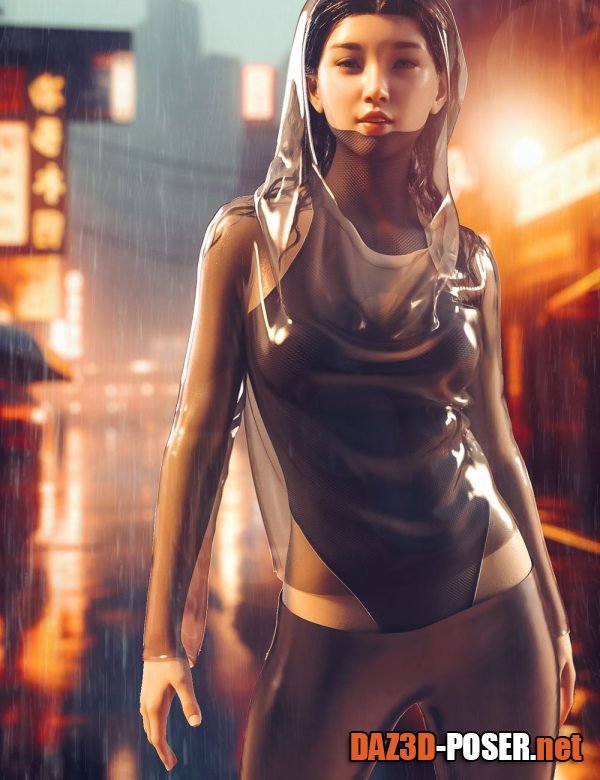 Image: dForce Spandex Vinyl Rainwear Outfit Genesis 9 Feminine and 8 Females
Title: Clothing – dForce Spandex Vinyl Rainwear Outfit Genesis 9 Feminine and 8 Females – download for Daz Studio or Poser
Description:
The rain beat on the asphalt, falling hard on the umbrellas of passers-by.

Still, a young woman was walking lightly, protected by her waterproof polyester and spandex rain gear. Her tight leotard and waterproof pants perfectly hugged her slender figure, revealing her natural beauty despite the rainy atmosphere.

As she walked, her black hair seemed to light up, as if the rain echoed its natural glow.

Behind her, a giant screen broadcast pale advertisements. She had the charm of a heroine, who crossed the city without fear and without worrying about bad weather.

Rainwear in waterproof polyester and spandex fabric and a geoshell for its tight leotard underwear and its pants or raincoat.

The item comes with a variation of 45 textures (10 pants, 9 Pant decal Shell, 9 Raincoat, 9 Raincoat Decal Shell, 9 Tight Leotard Shell) + declination in military camouflage.

Particular care has been taken for the texturing work to have a beautifully crafted garment.
Home Page: _https://www.daz3d.com/dforce-spandex-vinyl-rainwear-outfit-genesis-9-feminine-and-8-females