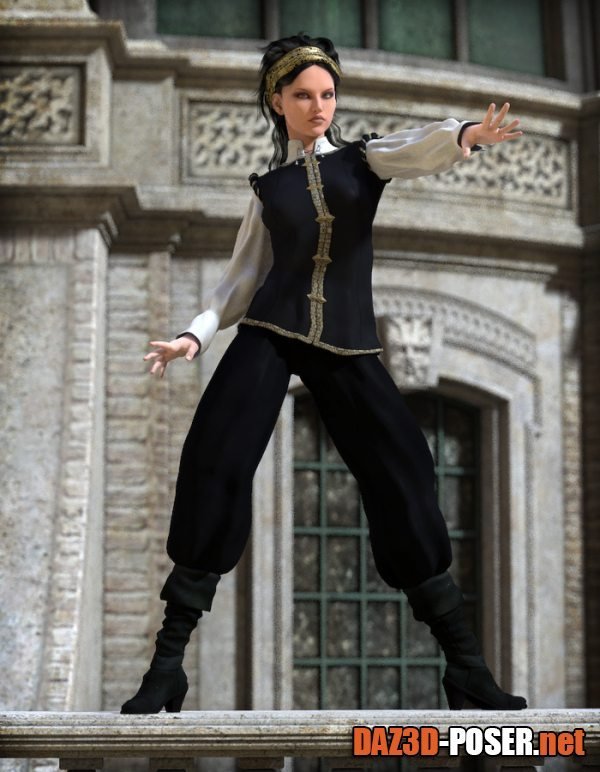 Image: Lady Worthington
Title: Clothing – Lady Worthington – download for Daz Studio or Poser
Home Page: _https://www.daz3d.com/lady-worthington
Description:
Audacious Lady Worthington has shamelessly raided her husband's wardrobe and is off to have her own adventures.

Inspired by Medieval and Renaissance artwork, this outfit will be useful for many occasions. It is perfect for all your historical, fantasy and romantic scenes.

This female clothing set comes with additional morphs to turn the flat boots into high-heels and also has optional loosen morphs for the breast shapes of the Evolution body morphs.

The vest has selectable parts at the bottom so you can manually adjust the hem to the leg pose if you're not satisfied with the automatic fit. This makes it possible to use the outfit even with crouching and running poses that are problematic with many clothes.

Morph dials allow you to choose different styles, and there are two variants for each vest texture (with and without shoulder pads).

The set comes with presets to adjust the UVs to the wider morphs so you don't get distortion with patterned textures. The same texture will fit all shapes, just apply the UV preset that matches your style morph! The UVs have been carefully optimized for the female shape, but the female and the male version can still share the same textures.

The Lady Worthington outfit supports all Genesis 2 Female Full Body Morphs (except the Heavy morph). These morphs have been carefully adjusted to produce pleasing results both in DAZ Studio and in Poser. All other morphs can be created automatically by the software.

Download links: