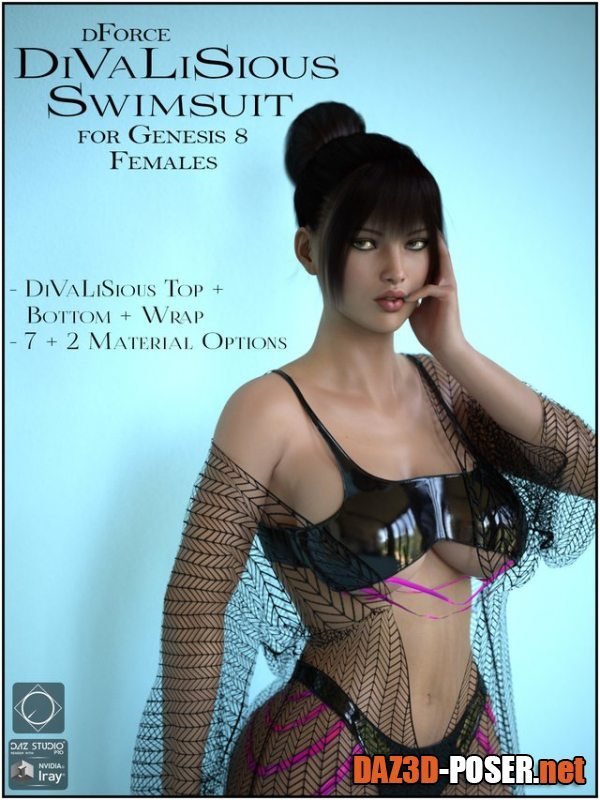 Image: dForce DiVaLiSious Swimsuit for Genesis 8 Females
Title: Clothing – dForce DiVaLiSious Swimsuit for Genesis 8 Females – download for Daz Studio or Poser
Home Page: _https://www.renderosity.com/rr/mod/bcs/index.php?ViewProduct=137635
Description:
This product contains three dForce wardrobe pieces: the DiVaLiSious Top, Bottoms and Wrap. It comes with 7 Iray materials for the bikini set and two similarly neutral toned base color texture sets for the body wrap (which will allow you to change the primary colors for the wrap from defaults to what you desire on the go). There are also options to hide the free flowing bikini straps should you wish to do so.

In case your Genesis 8 Models require a bikini set that looks chic, sporty and maybe a little naughty, then you need this. The texture options range from sleek, wet, performance, latex types to some lacy variants that will make you question why this product isnt called DeViLiSious instead.

The wraps are created to be free flowing and they will respond accordingly after they are simulated. Tight keyframes will make the wrap drape, wrinkle or clump up nicely while loosely timed keyframes with sufficient falloffs will let them hug your Genesis 8 Models a little more snugly.

All wardrobe pieces come with Shaping and Fitting morphs and they can conform to most Genesis 8 shapes via auto-fit and dForce simulation.
Download links: