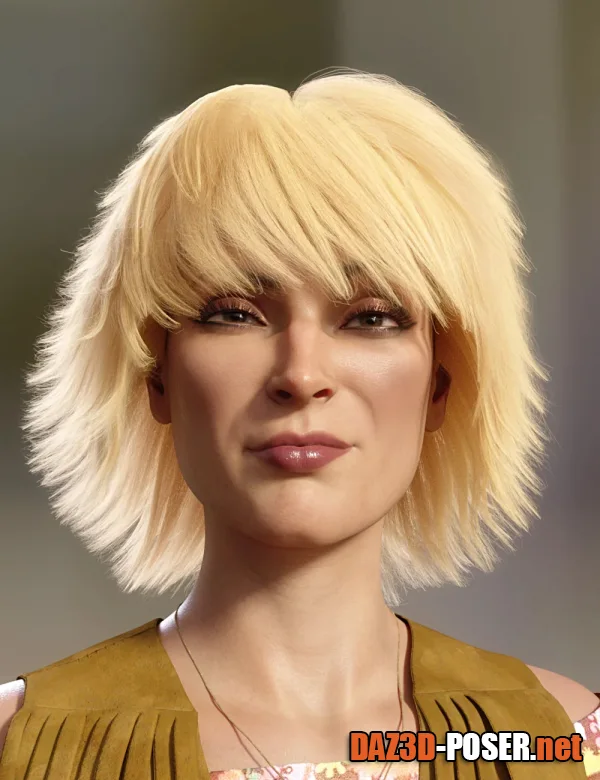 Image: dForce Shaggy Hair for Genesis 8 and 8.1 Male and Female
Title: Hair – dForce Shaggy Hair for Genesis 8 and 8.1 Male and Female – download for Daz Studio or Poser
Description:
dForce Shaggy Hair is a casual modern style to suit your Genesis 8 and 8.1 Males and Females of any age. It uses Daz dForce Hair to give a highly realistic, dynamic and drapable hair style with every hair individually rendered giving unprecedented realism.

dForce Shaggy Hair comes with a range of curls, lengths, fringe and movement morphs to give a huge range of looks. You can use it without the need to simulate it with the range of movement morphs included, and there are several different hair stiffness settings to give you maximum control if you chose to drape it. And don't worry – it simulates pretty fast!

The 36 realistic and fantasy hair colors all feature a blend of tones to give highly realistic results, plus I have included a choice of shines. As a bonus, I have included a range of Gradient presets so you can go wild with all the different hair color effects! With this hair in particular, the Clumping options can dramatically affect the look of the hair (see promo) and there are my usual options for different strays and preview modes.

Suitable for contemporary, fantasy and sci-fi characters of any age, dForce Shaggy Hair is the perfect way to add realistic style your characters.
Home Page: _https://www.daz3d.com/dforce-shaggy-hair-for-genesis-8-and-81-male-and-female