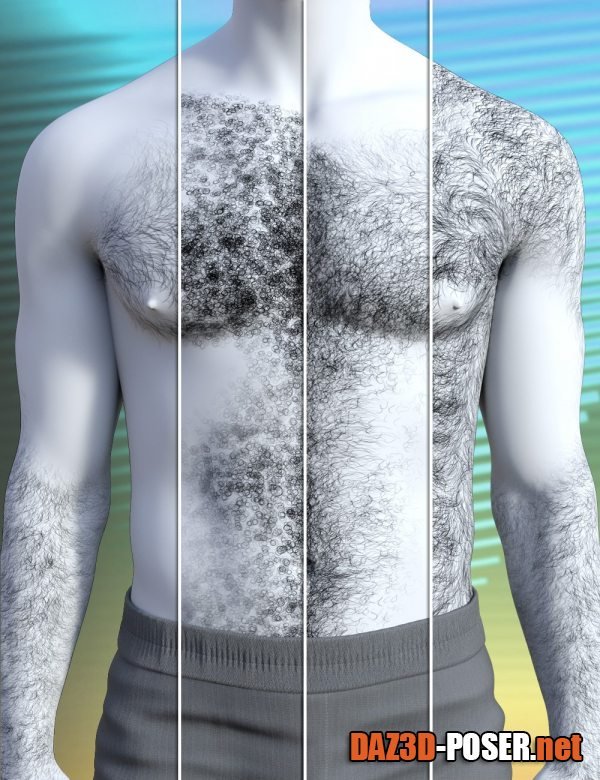 Image: Jepe's Masculine Body Hair Project for Genesis 9
Title: Hair – Jepe's Masculine Body Hair Project for Genesis 9 – download for Daz Studio or Poser
Description:
With this pack, you will get Geometry Shell and Body Hair Presets for Genesis 9 Masculine.

Body Hair includes lower and upper arms, chest and abdomen, back and hip, upper legs and lower legs in numerous different variations and degrees of coverage.

It was thoroughly hand-painted in Cinema4D's Bodypaint and Adobe's Photoshop after real-life photo sources of human hair growth patterns. Male Anatomical Elements are supported.

45 different body hair options can all be set to 4 base colors black, brown, blonde, and red. The hair color can also easily be changed in the Surface's Tab Diffuse channel - be creative with the aliens! The Geometry Shell Offset has three presets to adjust, it is necessary for possible poke-through of clothes and camera distance.

Although provided in high-resolution 4K textures, Jepe's Masculine Body Hair Project for Genesis 9 is light in using computer resources and an easy alternative or companion to fibermesh hair. For optimal rendering of the fine hair, a low Pixel Filter Radius (Render Settings - Filtering) is recommended.

Jepe's Masculine Body Hair Project for Genesis 9 is an easy way to give your Genesis 9 Masculine character a new look!

Home Page: _https://www.daz3d.com/jepes-masculine-body-hair-project-for-genesis-9