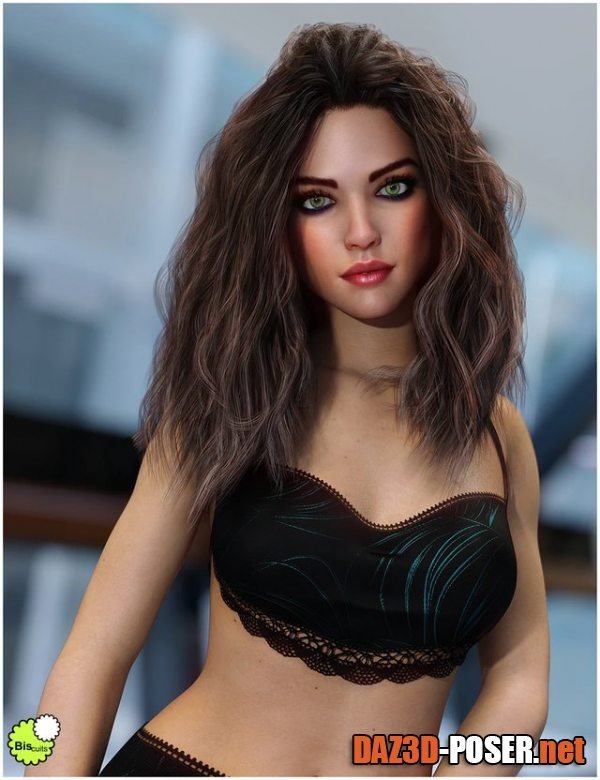 Image: Biscuits Kit Hair with dForce for Genesis 8 Female
Title: Hair – Biscuits Kit Hair with dForce for Genesis 8 Female – download for Daz Studio or Poser
Home Page: _https://www.daz3d.com/biscuits-kit-hair-with-dforce-for-genesis-8-female
Description:
Biscuits Kit Hair with dForce for Genesis 8 Female has Flexible and Creative control with the many build-in options, plus additional morphs to fine-tune with Adjustments, Move Morphs, and Creative Styles, to make the hair longer, shorter, curly, or straight and control the thickness.

This Hair is made from actual geometry mesh and transmapped with alpha textures.
It isn't made or to be used with the growing strands dForce spline system. (SBH)
So it's traditional geometry hair like tubes which is dForce ready with the cloth technique.

For ease of use, you get 17 Starter Shapes Presets and a Zero Pose. To control the density, tips, and roots of the hair there are 4 Transparency Presets as well, 4 Simulation Presets quickly setup your simulation. Freeze ON/OFF Presets are also included.

Kit Hair can be used with dForce and without because of the included 3 Static Style Shapes.

You also get 45 astounding Natural Colors and Crimp ON/OFF Presets.



Download links: