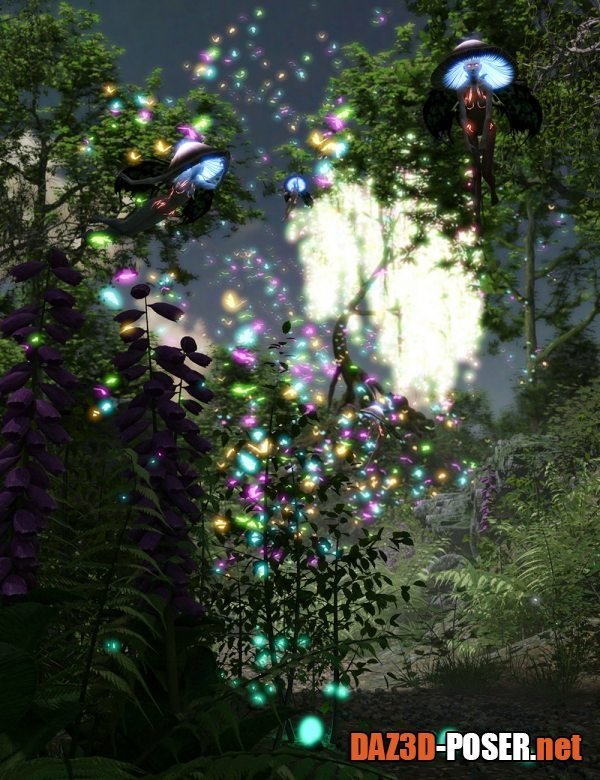 Image: Enchanted Wood – A Fairy Habitat
Title: Other – Enchanted Wood – A Fairy Habitat – download for Daz Studio or Poser
Description:
There are lots of nooks and crannies for all of your supernatural critters to lurk, live, and cast their glamours!

Not only do your digital fairies get 2 versions of this enchanted landscape (one with plant life and the other full of fairy flutters that glow in the dark), but they get lots of extra fairy plants too, including ferns, stylized fairy birch trees with mossy bark and twisted roots that can be planted on cliffs and rocks to show off their gnarly beauty, and even some fairy fox gloves that can glow if you cast the right spell from your materials presets! Also included are loads of saplings and ivy scatters and fairy oaks to further cover the area.

Top Tip: Just click on the scene subset environment you want and your habitat is loaded. It's big with a great deal in it, so if you need to work within it to position your characters, we suggest turning the plants and path groups to invisible in the scene tab until your characters and objects are positioned to your satisfaction, then make them visible again and you're good to go.
Home Page: _https://www.daz3d.com/enchanted-wood--a-fairy-habitat-