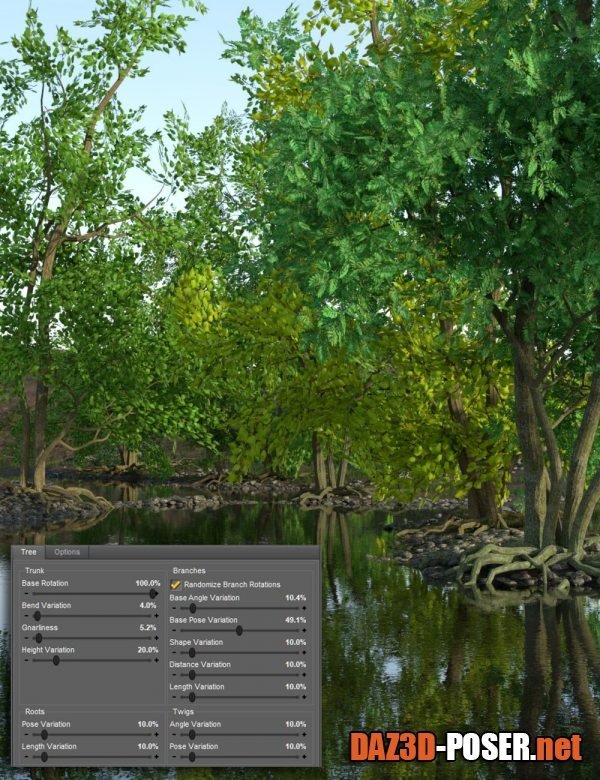 Image: Randomizable Trees 2
Title: Other – Randomizable Trees 2 – download for Daz Studio or Poser
Description:
The trees in this pack comes in 3 resolution levels: high, medium, and low — so you can have the same species of tree in foreground and background without wasting your system resources on HD meshes in the background.

This second pack of the series contains a multi-stemmed tree type, as often seen in mountain regions or along rivers.

You can pose it manually, of course, but the real power of this set lies in the included Randomizer script. Use the script to create an infinite number of different trees. Low randomizing values in the script will create similar, but still different trees; perfect for a grove of the same tree species. High randomizing values will create completely different trees that are perfect for woods and forests. The script also offers options for hiding one or more of the five stems, which increases the variety. Save out presets to create the same tree style for all resolution levels.

What's more, the trees are asymmetric, so they will look like a completely different tree when seen from a different angle. That allows you to create a handful of truly unique trees via the script and then use instances to create the illusion of lots and lots of different trees. Additional Arrangement options (to be applied manually after creating the tree) will create further variation in your trees.
Home Page: _https://www.daz3d.com/randomizable-trees-2