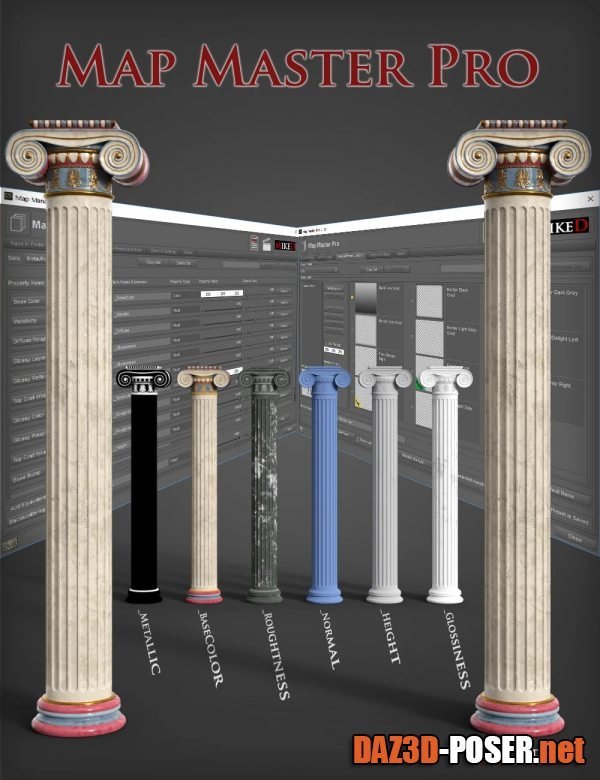 Image: Map Master Pro
Title: Other – Map Master Pro – download for Daz Studio or Poser
Home Page: _https://www.daz3d.com/map-master-pro
Description:
Do you use your own maps in DAZ Studio? This is the perfect tool for you if you make your own maps manually, or if you use any texture software, like Substance Painter, and you want an easy and fast way to plug these maps into the materials slots. It works with default shaders, any shader in the DAZ market or custom ones. Put any text or an image watermark onto the maps, rescale any of them, and reuse the same modifications to the new sets with one click. Make some presets and the script will plug any map set into any item using that preset in no time, without mistakes.

Do you have some maps with no information? No problem. The script gives you the option to use only the maps you want. It also has the capability to build and save the UV templates. It uses two maps folders (the original maps folder and the destination maps folder), so it copies your maps in a nondestructive way. You may use the same folder, as well.

Do you think we are finished here? It is time for some material presets. The script can save the material preset for any surface. The script also includes an Icon Building System, based on layers, in order to make your own material icons in 256px and 91px. Put your own 256px .png files into its specific Icon folder in order to enrich your Icon Library with new backgrounds, borders and foreground image options.

I hope you find it fun and useful. Of course, not the script itself, but the results it is producing can be used for any commercial item, so we can say that it is a merchant resource too.
Download links: