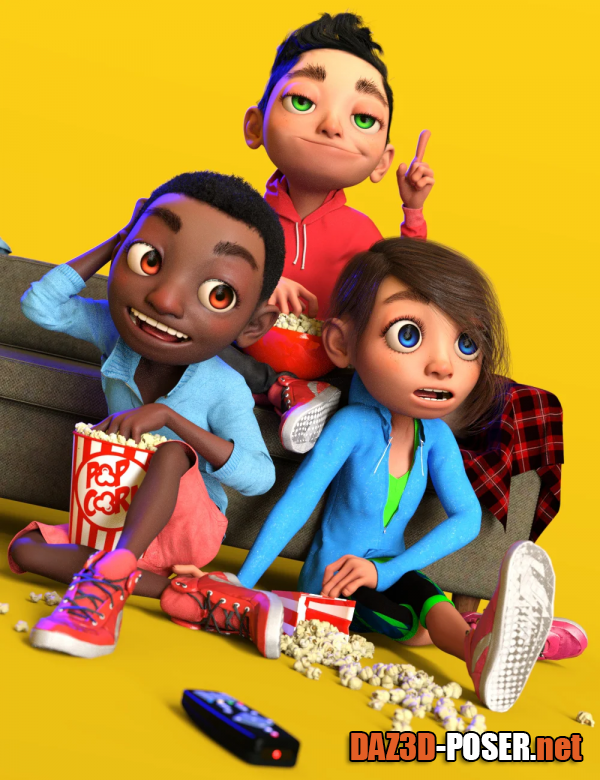 Image: Toon Kids for Genesis 9Toon Kids for Genesis 9
Title: Other – Toon Kids for Genesis 9Toon Kids for Genesis 9 – download for Daz Studio or Poser
Description:
The base shape is designed to work with the neuter Genesis 9, with custom sculpted corrective blend shapes included to also refine the shapes of the masculine and feminine Genesis 9 Bases. The Toon Kids also blend well with other Genesis 9 body types.

The character is split into three different blend shapes which are triggered by a central control dial. Head, body, and now proportion dials work in conjunction to deliver the finished character. This added level of nuance frees you to explore all the possibilities this shape package has to offer, allowing you control over those three aspects of the character independently while you also blend in other Genesis Shapes. Joequick's Genesis 8 Toon family of products was exceptional at bringing toon qualities to a variety of non-toon characters, and the Genesis 9 version is even more so.

Light, Medium, and Dark skin material presets are included, as well as a fun zombie skin tone.

Toon Blue, Brown, and Green eyes are included along with a grey preset designed for customization.

Extra nose shapes are included to help you quickly diversify your characters, but you are encouraged to take it even further by utilizing Daz's other fine head and body morphs.

The included brows have an adjustment dial to control the weight of the hair and the thickness of the brows.
Home Page: _https://www.daz3d.com/toon-kids-for-genesis-9