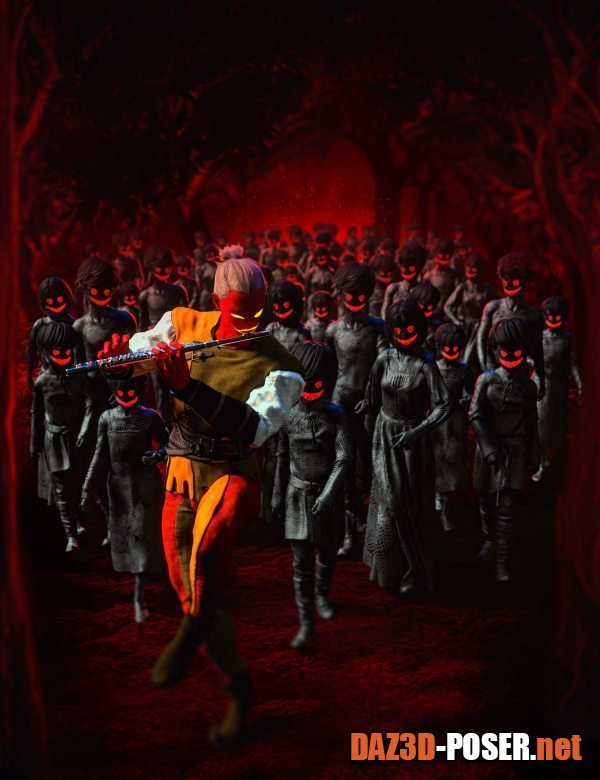 Image: FPE Faceless for Genesis 8 and 8.1
Title: Other – FPE Faceless for Genesis 8 and 8.1 – download for Daz Studio or Poser
Description:
Faceless for Genesis 8 and 8 .1 consists of a set of Geografts that work like masks to strip the face off of any character. Also included are shaders, textures, and LIE Masks to give the smooth surface an exaggerated expression for the purpose of storytelling. This product can sever several different purposes.

On the one hand, this provides the user with the ability to quickly create crowds without having to worry or bother about what those background characters should look like. Instancing a couple of these 'silhouetted characters' can quickly help build a scene without exhausting your system, especially as you can lower the resolution of these background characters. Adding one of our expressions via LIE can also help show your audience whether the crowd is hostile or not.

Another use would be to provide mystery to a character. If your story is dealing with an antagonist you don't want to show your audience yet, you can use the Faceless Geograft, Materials, and Shaders to shroud him in mystery while still showing something to your audience, giving him a more menacing look.

The third use of this product is to create ghosts or demons that may be guilt-ridding your character. Maybe these phantoms cling to your character, with tears in their eyes, asking for vengeance? Or maybe they trail behind your character, enjoying the way your protagonist struggles through life? Or maybe your protagonists are trying to escape someone but their paranoia makes them feel like everyone's eyes are on them. Whatever the story, this product can help you tell it!
Home Page: _https://www.daz3d.com/fpe-faceless-for-genesis-8-and-81