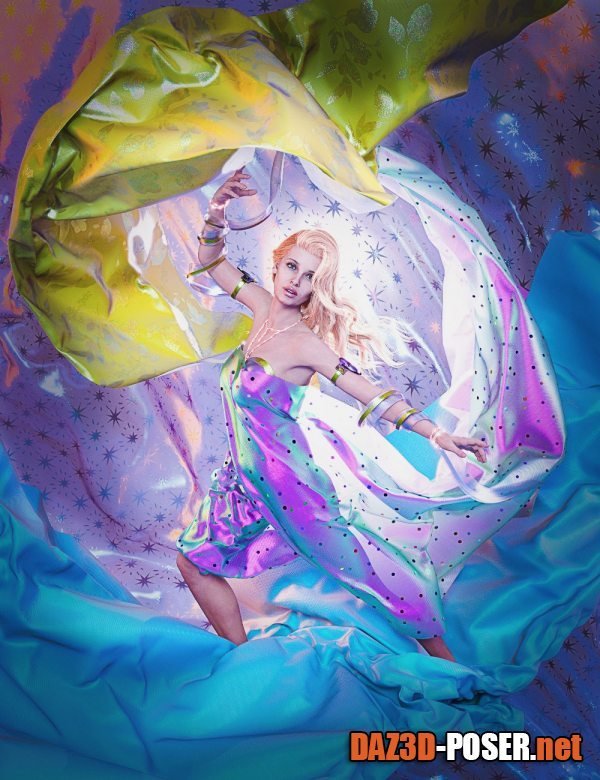 Image: PTF Shimmertime Shaders
Title: Other – PTF Shimmertime Shaders – download for Daz Studio or Poser
Description:
Shimmertime Shaders is the solution to your fantasy, sci-fi or glamour texturing needs. Unique presets make the surface reflect the light and play with it, creating multiple colors at once that just POP!

This set contains a set of basic materials: from sheer fabrics, to satin, to plastic to get you started. The main feature is the collection of the color effects that affect three separate aspects of a surface texture: base gloss, metallic flakes and top coat. There are seven presets for each group, and they can be mixed and matched to get the desired effect or layered to enhance each other. Moreover, the product contains 30 chromatic metallic patterns to add interest to the surface. And the icing on the cake (because we like icing... and cake) is the collection of geoshell designs. Some of them come with original color, some don't - but they all can be colored with the Color FX presets.

Don't miss the opportunity to add a little Shimmertime magic to your renders!

*Note: does not work with Genesis 8.1 skin shader.

Home Page: _https://www.daz3d.com/ptf-shimmertime-shaders