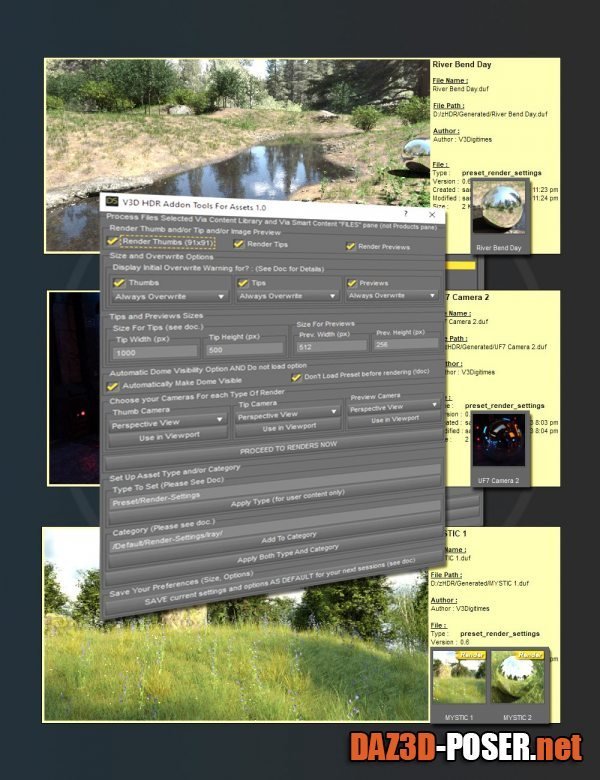 Image: V3D HDR Add-On Tools
Title: Other – V3D HDR Add-On Tools – download for Daz Studio or Poser
Description:
V3D HDR Add-On Tools is the perfect add-on for the HDR Creator and HDR Manager products, but it can do so much more! With HDR Add-On Tools, you can create very rapidly and efficiently new thumbs for your assets, as well as custom tips and custom image files called Previews. You can also create Previews for any hdr or exr image file (file formats generally used for environment images) existing on your computer: the ones you downloaded from the internet HDRI sites, the ones you created yourself, the ones you bought in Daz Store through HDRI sets, etc, etc.

The 2 main scripts consist in one script dedicated to images and one script dedicated to assets.

Concerning the script acting on images, the script can load in a list all .hdr or .exr images it finds in a given folder and its subfolders. You can then act on one or several images via a list, either by previewing the images in a small popup before your decide to create previews for them or not, or by creating these previews.

The previous are .prev.png files allowing you to see what your HDRI files look like in your file explorer (which is not easy in general), or what your assets (.duf files) look like in "bigger images", but they can also be used as an additional option in the V3DHDR Manager.
Home Page: _https://www.daz3d.com/v3d-hdr-add-on-tools