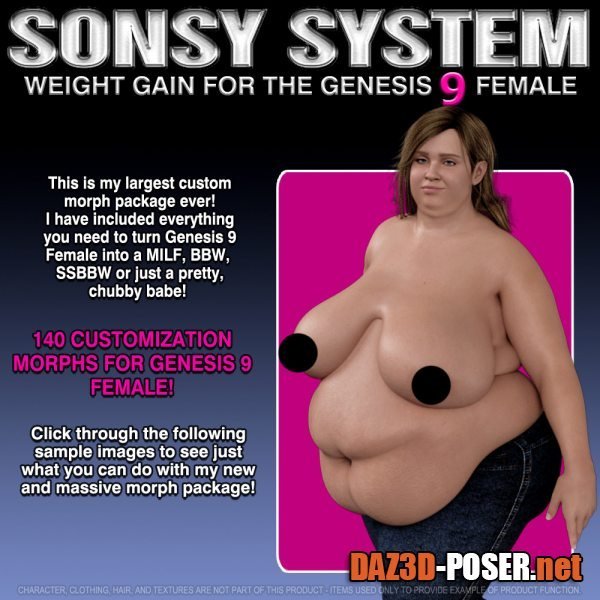 Image: Sonsy Weight Gain System for Genesis 9 Female
Title: Other – Sonsy Weight Gain System for Genesis 9 Female – download for Daz Studio or Poser
Description:
Rather than releasing a main pack with supplementals as I did previously with Genesis 8, I've decided to rely on customer feedback to select the morphs from the G8 products that were considered the best and most functional. I have done my best to replicate those in this new G9 figure. So your favorite G8 options will be present in the new G9 version of the SONSY SYSTEM along with a multitude of new options and parameters. So you'll have the expected weight control morphs plus...you'll also find lots of breast, butt, and belly controls too! In a nut shell, you're getting the full SONSY SYSTEM for G8 tailored and updated for G9 plus a bunch of new morphs. Check out the list below to see what I'm talking about.

If you've played with G9 much so far, you know she has no real navel or nipples in base form (Subdivision level 0) - so this is both good and bad. It's good, because the nipples aren't weight mapped like with G8 so when you move the breasts around the nipples don't bend all wonky like they did with G8. But, the bad part is no one but those with HD import capability can really create nipple shapes (meaning DAZ studio in-house creators). However, the basic G9 figure comes with both nipples and navel morphs ready to go if you dial her/him into subdivision level 3. For that reason I've not bothered with creating adjustable nipples or navel creation morphs...instead, I've made morphs that adjust the existing DAZ options.

Other good things with G9 is her torso is a bit more compliant with rolls and expansion. This means you can get better love handles and shaping on the torso - thus you'll find a lot of new morphs for things like under-rib-roll and under-love-handles. I've also included the now infamous "busted can of biscuits" for both male and female versions of G9. You'll also find the supersize SSBBW and massive butt pear options. There is also a pregnant belly morph, but again no navel protrusion morph for that. However, the DAZ G9 expanded shaping package (on sale at DAZ.com) contains a protruding navel morph (HD only). I will also be offering a quick-fix displacement map for bubbling her navel outward for free later, so keep an eye on my freebies for that. Again, that's one of the problems with G9's lack of nipples and navel on low polygon levels.

Home Page: _https://www.renderhub.com/heviestate3d/sonsy-weight-gain-system-for-genesis-9-female