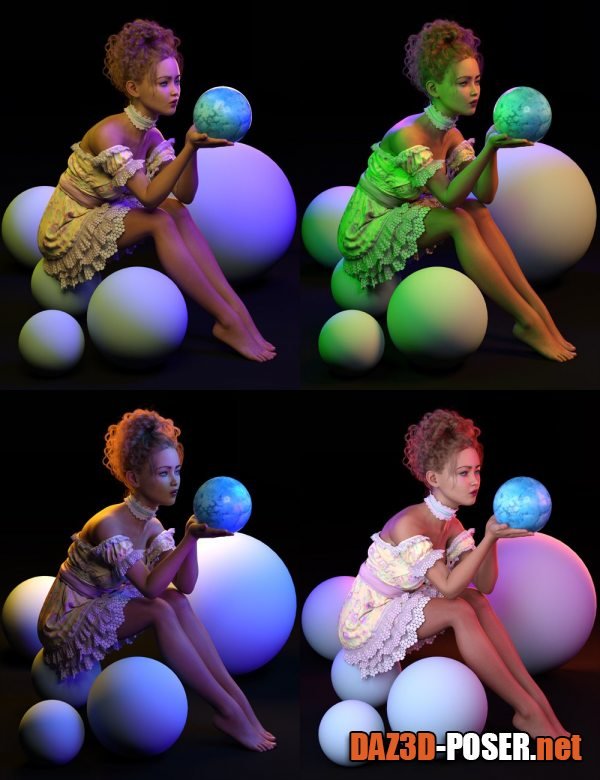 Image: Luminosity Vivid: Mesh Lighting System
Title: Other – Luminosity Vivid: Mesh Lighting System – download for Daz Studio or Poser
Description:
Introducing Luminosity Vivid: Mesh Lighting System – a lighting system that uses the power of color theory and the color wheel. This product offers a wide array of color schemes, including Monochromatic, Analogous, Complementary, Split Complementary, and Triadic, in 27 easy-to-apply one-click presets to instantly transform your renders.

Monochromatic: Luminosity Vivid creates a harmonious atmosphere by illuminating your surroundings with varying shades of a single color, offering a soothing and unifying ambiance.

Analogous: Using subtle gradients and smooth transitions, Analogous lights gracefully blend neighboring colors on the wheel, casting a gentle and calming aura.

Complementary: Add vibrancy and contrast to any render with Complementary lights. The Complementary color scheme pairs opposing colors on the wheel to create a dynamic and energizing environment.

Split Complementary: Strike the perfect balance between harmony and intrigue. Split Complementary combines a base color with two adjacent hues, resulting in a visually captivating setting.

Triadic: Triadic offers a perfectly balanced trio of colors equidistant from one another on the wheel. This delivers a striking and well-balanced composition, making your renders feel alive with creativity.

Luminosity Vivid gives you complete control. Use any of the 27 one-click light presets to quickly add lighting to your scene using grouped mesh lights or use the base mesh light props to create your own. The included Utilities can quickly turn individual lights on or off or make them visible or invisible in your scene, and the bonus included Bloom and Tone Mapping settings will adjust your scene even further.

Home Page: _https://www.daz3d.com/luminosity-vivid-mesh-lighting-system