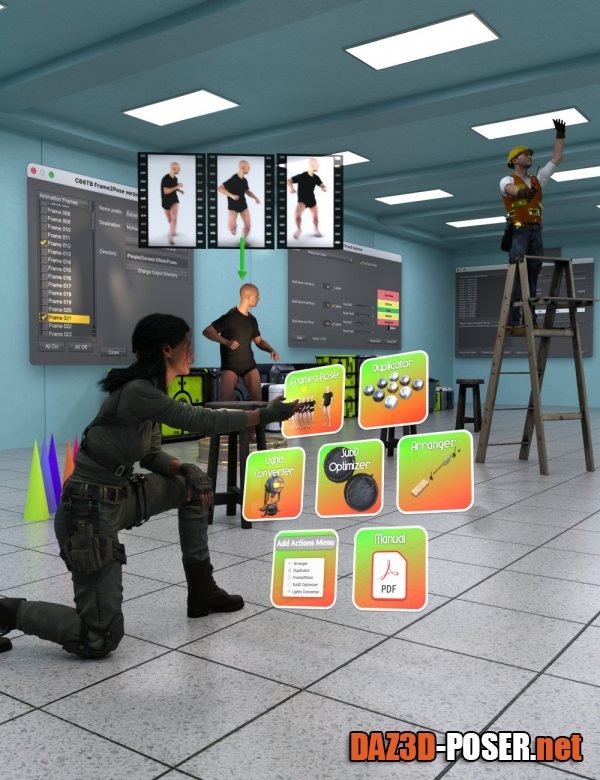 Image: Code 66 Toolbox – Volume 4
Title: Other – Code 66 Toolbox – Volume 4 – download for Daz Studio or Poser
Description:
Welcome to another power packed Code66 Toolbox, Volume 4. This set of scripts will bring you more powerful tools for both Artists and Published Artists alike, a little something for everyone. Code66 Toolbox Volume 4 brings you the following tools to add to your growing box of indispensable tools.

SubD Optimizer:

Do you use large environments or lots of distant people in your renders and wish to reduce the VRAM usage by high SubD settings on items far away from the camera or out of focus? Wish no more, SubD Optimizer is here to help you. Easy reduces SubD of items ot people in the scene, and also easy to restore to its original settings if you change your mind, or camera angle.

Arranger:

This tool will help you arrange a selection of props or figures either lined up, or in a grid. Very useful for a PA to quickly make a nice display of the props that are part of a set, but can also be used to quickly make lines or grids of buildings, pillars or whatever you want.

Duplicator:

Duplicator is a tool to quickly create duplicates of an item, not instances, which is very useful if you want to have identical items but with different materials or shaders.

Frame2Pose:

This tool is very useful when you want to convert one or several frames of animation for items into stand-alone poses for said item. It's intuitive and fast to work with, and you will be able to grab those frames and turn them into reusable poses in the blink of an eye.

Lights Converter:

This tool will help you quickly and correctly convert old light sets for old products into Photometric lights that Iray uses. It also points out which lights cannot be converted and even helps you remove them from the scene.
Home Page: _https://www.daz3d.com/code-66-toolbox--volume-4