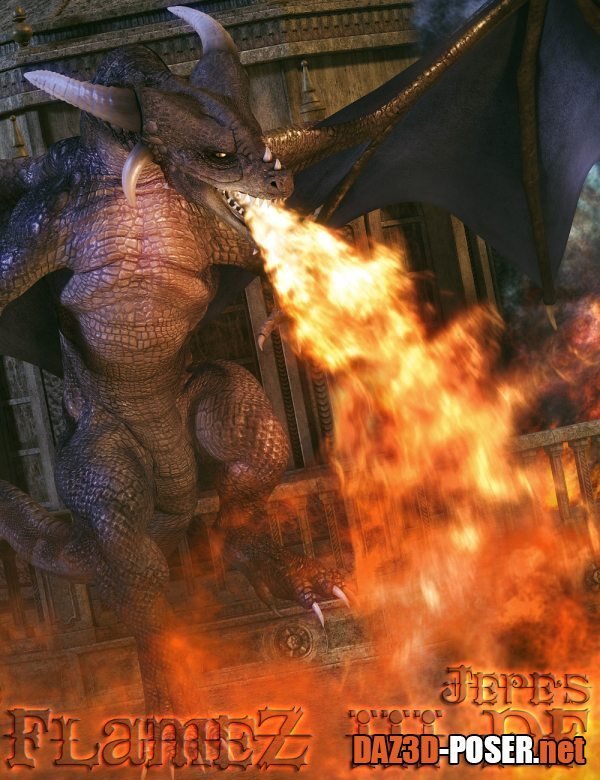 Image: Jepe's FlameZ III DF
Title: Other – Jepe's FlameZ III DF – download for Daz Studio or Poser
Home Page: _https://www.daz3d.com/jepe-s-flamez-iii-df
Description:
Part III of Jepe's FlameZ is a collection of very unique and very different 2D Special Effects for your 3D rendering scenes and connects seemlessly to my previous Special Effect Packs.

Save time and effort for postwork, you can add effects before rendering now. Choose from a great variety of fiery effects in different variations, support your dragon character the easy way by adding fiery breath effects with FlameZ III DF!

FlameZ III DF work equally fine in all Poser6++ versions, Carrara, DAZ Studio or imported via DAZ Studio into Bryce. They always will load at their default size of 100% and with their correct proportions.

It's in the nature of these Special Effect Billboard Props NOT to increase render time dramatically, even if using numerous effects in one scene! As introduced with my GraphicZ III Pack you can use the sixteen different deforming morphs in the HQ props in addition, to alter the FlameZ III DF effect's shape and direction. FlameZ III DF have the origin positioned at the flame's start, so placement and rotation in the 3D scene is easy.

Download links: