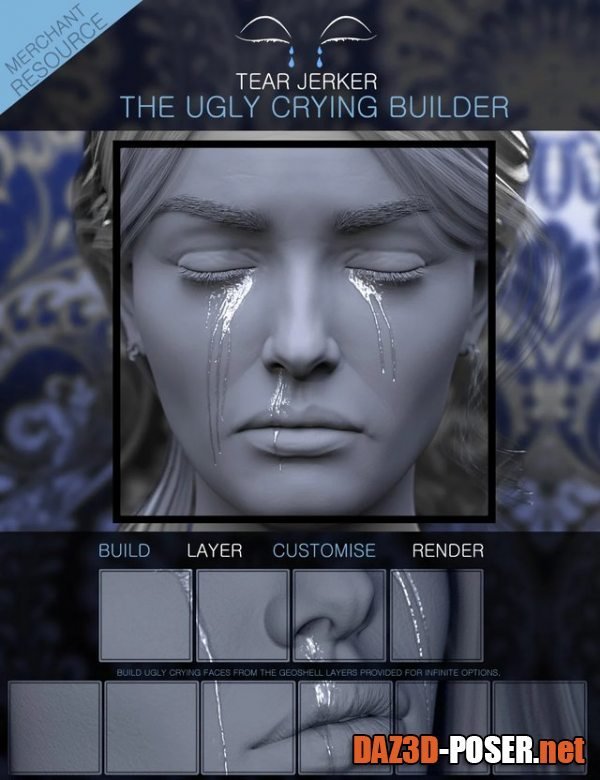 Image: Tear Jerker the Ugly Crying Builder for Genesis 3, 8 and 8.1 Females Merchant Resource
Title: Other – Tear Jerker the Ugly Crying Builder for Genesis 3, 8 and 8.1 Females Merchant Resource – download for Daz Studio or Poser
Home Page: _https://www.daz3d.com/tear-jerker-the-ugly-crying-builder-for-genesis-3-8-and-81-females-merchant-resource
Description:
Tear Jerker the Ugly Crying Builder for Genesis 3, 8 and 8.1 Females Merchant Resource gives you tons of versatile tears and snot!

This Geoshell Preset & Material Collection adds realistic tears to any Genesis 3 or 8 Female character in your library. All options make use of opacity, bump, and normal maps to ensure beautiful, high-quality detail.

10 pre-made, wearable presets are included so you can study them and see how they're put together.

This is a merchant resource, so you can fully use it on the characters you create. You are not limited to using this on Genesis 8 characters. If you want to use it on Victoria 4 or any other project, feel free. The only stipulation is that you cannot use it in other merchant resources or free characters.
Download links: