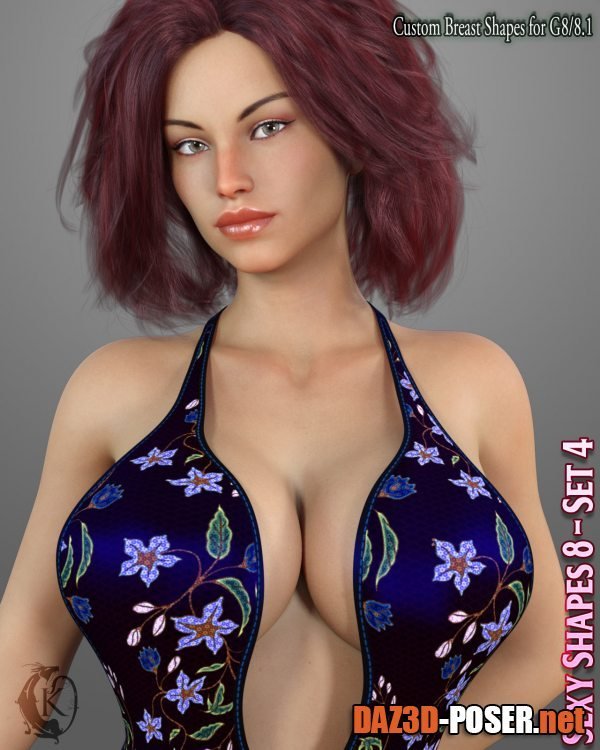 Image: Sexy Shapes 8 - Set 4 - Genesis 8 and 8.1 Females
Title: Other – Sexy Shapes 8 - Set 4 - Genesis 8 and 8.1 Females – download for Daz Studio or Poser
Home Page: _https://www.renderosity.com/rr/mod/bcs/sexy-shapes-8---set-4---genesis-8-and-8-1-females/152123/
Description:
Sexy Shapes return with a fourth brand new package of custom breast shapes for Genesis 8/8.1 Female. This all new package includes 12 Realistic, custom breast morphs which you can use in your own commercial character packages. These morphs can be found in the Parameters Tab Actor>Chest>SexyShapes>Set4. You will also find 1 click presets in your Genesis 8>Shapes folder to turn each morph on or off with 1 click. In addition this package includes 8 mix and match 1 click preset shapes made using these custom shapes. This package also includes 5 Left only and 5 Right only Breast shapes that are not derived from the included shapes as well as Left and Right Breast Gone Morphs. You can use these shapes together to make a complete morph or use them separately with other morphs to add beautiful and realistic imperfections to your Genesis 8/8.1 girls. Use the included presets or mix and match using the Parameter dials to make your own. No Morph packs are required to use this package. Just the base Genesis 8 or 8.1 female figure.


Sexy Shapes 8 Set 4 includes:

12 Custom Breast Shapes for Genesis 8/8.1
5 Left Breast Shapes for Genesis 8/8.1
5 Left Breast Shapes for Genesis 8/8.1
1 Left Breast Gone Shape
1 Right Breast Gone Shape
1 Click On/Off presets for each Custom Shape
8 Mix and Match 1 Click Presets made with these custom shapes.