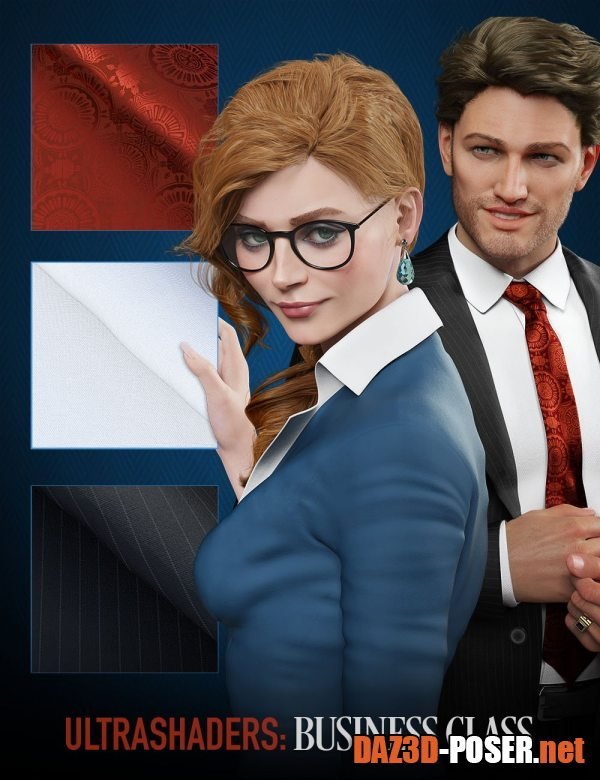 Image: Ultra Shaders: Business Class Fabric Shaders
Title: Other – Ultra Shaders: Business Class Fabric Shaders – download for Daz Studio or Poser
Description:
Ultra Shaders: Business Class Iray Shaders are just the thing to customize your Daz Studio wardrobe in endless combinations! Perfect for formal wear, business casual, suits and ties, and more.

To start, we've included 30 hand-crafted fabric presets for wool, silk, cotton, and sweater materials so you can easily apply a fresh look to your outfits in a snap. Or create and customize your fabrics with 24 unique pattern overlays, choosing from an expansive collection of coordinated colors designed to work with each tone and hue.

Our Business Class shader pack was created using our high-resolution lighting system on actual fabrics to capture the fine details and the detailed normal maps will react with your scene lighting.

Ultra Shaders Business Class Fabrics includes 8 different base materials such as Fine Wool Suiting, Cotton, Herringbone, Houndstooth, and Silk plus Cable Knit and Shaker Stitch Wool Sweater Shaders with matching trim for the neck, cuffs, and waistband.

24 color choices are available for each base material along with light, medium, and dark base fabric levels to give you up to 72 colors per fabric in seconds. And that's before you include the patterns!

We've loaded up this set with 24 different patterns, including stripes, plaids, checks, florals, gingham, geometrics, and even an argyle for the sweaters! Separate pattern color sets for silk and wool/cotton-based pattern overlays ensure the perfect look.

Even better, we've included a TON of utilities so you can control the size of the base fabric grain independently from the pattern overlay tiling. Diffuse overlay and topcoat utilities give you precise control of how the pattern appears, from subtle to strong. Pattern offsets, opacity settings, plus a pattern inverter are included as well.

Branch out even more and adjust within the surfaces panel to create an infinite variety of looks for all your projects. Scaleable, customized highly-detailed fabrics are just a few clicks away.
Home Page: LINK
Download links: