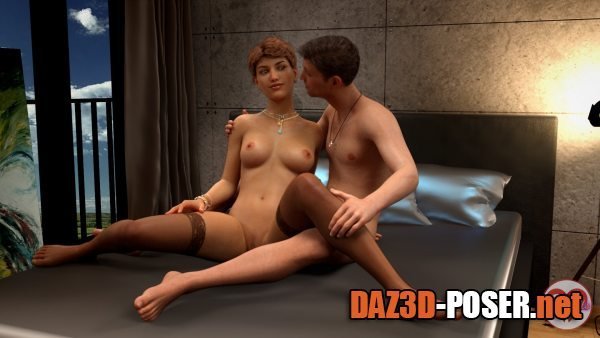 Image: Making Out 40 Animation Pack For Genesis 8
Title: Poses – Making Out 40 Animation Pack For Genesis 8 – download for Daz Studio or Poser
Description:
Here we have eight sequences of a couple having some alone time.
This is in terms of number of frames the largest package we have ever created to this day.

There are four different animation loops (42 frames @ 24 FPS), as well as much longer 247 frame animation loops of those four sequences, with positional changes of the figures throughout the animation. There is a total of 1156 frames in this set.
This will allow users with newer RTX cards to render much longer animations.

We have used 3feetwolf's "Dicktator G8" for the male genitalia, and "New Genitalia For Victoria 8" as usual.
Included, also as usual, is a script that will unlock all bones of a figure prior to applying the animations. Without the script, the fit of the poses may not be ideal.
Each of the 8 sequences is comprised of 5 animations or pose presets. One for G8M, one for G8F, one for the New Genitalia for Victoria 8 and two for Dicktator G8 (shape and pose presets).

There are a total of 40 pose or shape animations/presets in this set.
Home Page: _https://www.renderhub.com/gonzogames/making-out-40-animation-pack-for-genesis-8