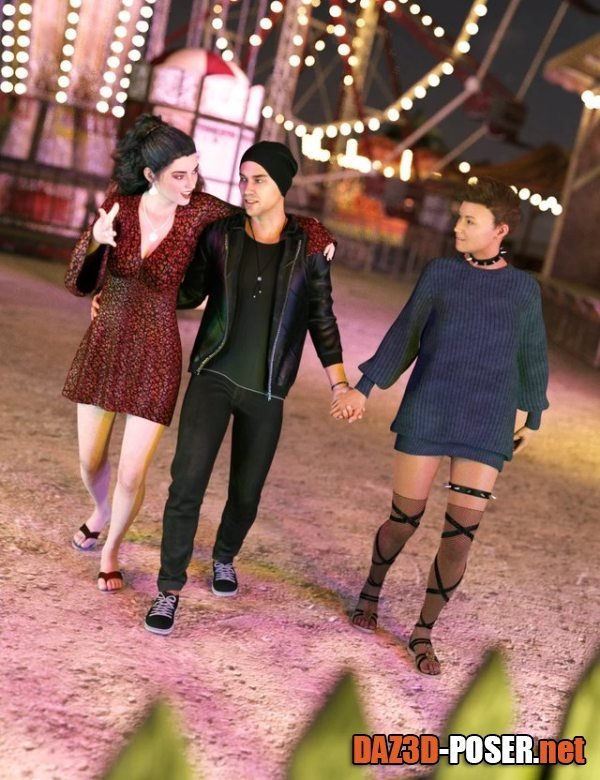 Image: FF's Triad Romance Poses for Genesis 8
Title: Poses – FF's Triad Romance Poses for Genesis 8 – download for Daz Studio or Poser
Home Page: _https://www.daz3d.com/ffs-triad-romance-poses-for-genesis-8
Description:
Love. It's what makes the world go 'round. Love also comes in many different shapes and sizes and looks different to different people. Allow your Genesis 8 characters to express their unique, individual romantic relationships with these tastefully crafted 3D digital polyamorous vignette poses that explore the love of thruples and vees.

Included in this set are three 3-person vignette poses, but don't let the small amount fool you. Each vignette comes complete with 8 different variations - for a total of 24 vignettes, or 72 poses! Each variation allows you to pick where your characters go in the pose, without having to fiddle to make Genesis 8 Male fit into a Genesis 8 Female pose. Each position is crafted to work with the surrounding figures so you can focus on making art - not fussing with figure posing.

As a bonus for your convenience, included in this set of poses is FeralFey's Vignette Handle - allowing you to move your thruple or vee group of lovers to anywhere you want or need in your scene without having to worry about repositioning anything. Simply load the Vignette Handle, parent your figures to it, and then use the Handle to move your figures. It's that easy!
Download links: