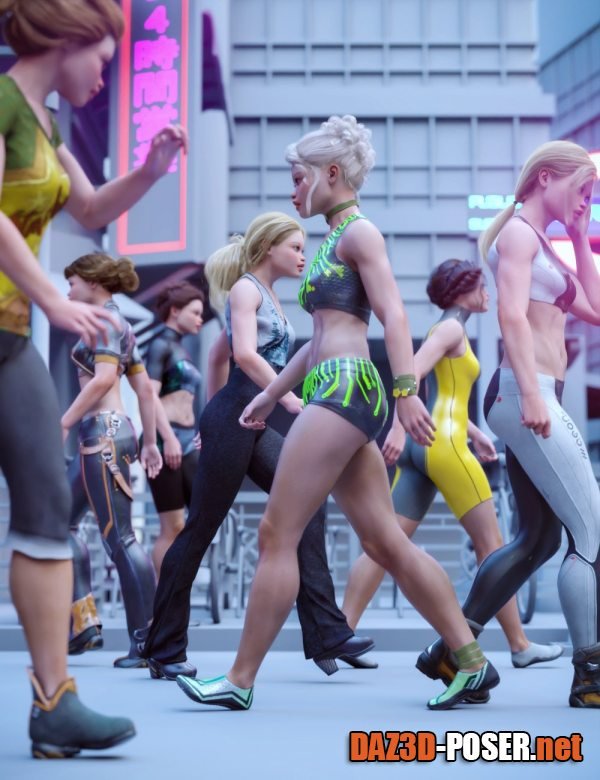 Image: Everyday Walking Poses for Genesis 9 and 8 Females
Title: Poses – Everyday Walking Poses for Genesis 9 and 8 Females – download for Daz Studio or Poser
Description:
Everyday Walking is an extensive and comprehensive package of walking poses, that aims to offer a varied range of practical and natural poses for both foreground and background characters.

Practical poses are the basics of image creation and this package aims to offer a useful tool for creating a realistic-looking, everyday scene.
Combine this with our Conversation poses packages and you will fill a scene with believable characters and groups in no time. Then you can explore your setup through one of the camera sets included in our Poses and Cameras package to quickly check out different perspectives and POVs.

This package is based on our original Genesis 3 Walking poses set; all the poses were improved, optimized, and fine-tuned for both G8 female and G9 feminine and look great from any angle.

The included partial poses are a great tool to increase the possibilities of this package tenfold due to the fact that this set is more limited in scope and the mixing and matching will not require major adjustments.
We also included Heads-only partial poses since the head position alone can greatly nuance a simple walking pose.

Everyday Walking includes 35 full body poses and 140 partial-body poses for: Body Upper, Body Lower, Arms only, and Head only. It also includes 35 full body and 140 partial-body mirrored versions.

Home Page: _https://www.daz3d.com/everyday-walking-poses-for-genesis-9-and-8-females