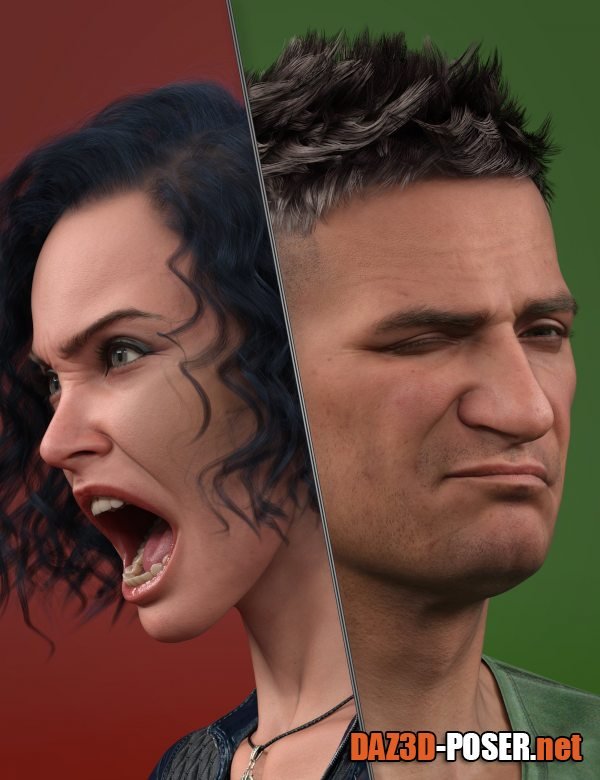 Image: NG Faces of Anger and Disgust for Genesis 9
Title: Poses – NG Faces of Anger and Disgust for Genesis 9 – download for Daz Studio or Poser
Description:
The fourth set of pose expressions in this series covers a range of emotions centered around anger and disgust.

Included are 50 unique intricately designed expressions plus asymmetric versions for those that apply.

You can either apply them at 100% with the supplied pose presets or use the provided parameter dials linked to the body or head of Genesis 9 in case you want a toned-down version or would like to mix emotions.

Each expression also has separate upper and lower face versions in presets and parameter dials, so you can even mix the upper and lower halves of the face to create your own expression.

This set includes a bonus of 9 upper face HD morphs which provide subtle wrinkle effects. These morphs work best when applied with eyebrow movement up, down, or squeezed, nose sneer, and eye squints. Each can be dialed in separately to your own custom amount.

Notes: The previous set "Faces of Pleasure and Happiness" is only required to make full use of the tongue morphs provided by that set.

A "brow buster" preset has also been provided for use before using the parameter dials. Using this and then re-zeroing the facial expression will break the eyebrow limits, allowing the parameter dials to make use of the extended range.

This set of Genesis 9 expressions will add life to your characters in action scenes, moments of struggle, or when expressing distaste. Expand your "Faces Of" expression library further and even mix expressions with previous versions!

Home Page: _https://www.daz3d.com/ng-faces-of-anger-and-disgust-for-genesis-9