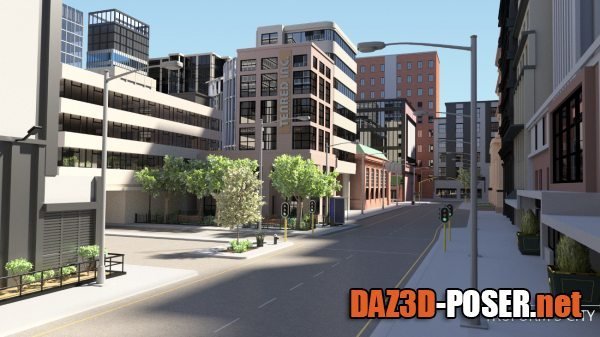 Image: TruForms City
Title: Props – TruForms City – download for Daz Studio or Poser
Description:
Introducing the biggest TruForm scene to date- TruForms City! Built up on 1.3 million polygons, this is one super detailed item!
The vast scope of city provides loads of angles to surround your characters in. It offers many skyscrapers towering above to produce a full immersive urban life.
There are 56 buildings lined in 10 streets with lots and lots of props, including an outdoor restaurant. It doesn't even stop at the top, you can enter into a tunnel at the centre of the city and exit into a parking area located at the other end, which also opens up to a different area of the city for complete continuity. There are also unique design choices to avoid a dull straight road with cross sections, you can go on the highway road (a ramp) which passes through 2 different buildings and enters the main area or back road that enters a fuel station all in a connected manner. One building even allows a pathway to walk through to the next street and is wide enough for a car to fit for those car chase scenes ;)
There's also a long alley which is the only road leading to a 'dead end', that is, a building at the end. With so many angles to choose from you have loads of choices for unique shots before you'd need to revisit an area.
Home Page: _https://www.renderosity.com/mod/bcs/index.php?ViewProduct=140540