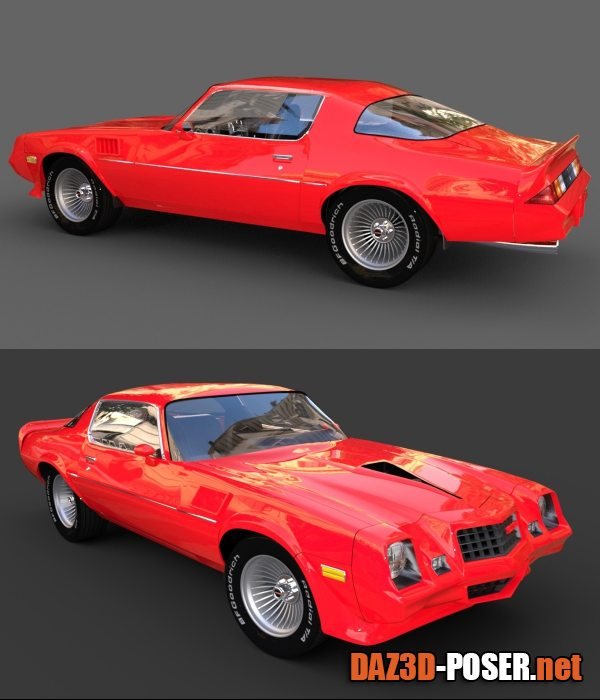 Image: CAMARO Z28 1979 for DAZ Studio
Title: Props – CAMARO Z28 1979 for DAZ Studio – download for Daz Studio or Poser
Description:
HIGHLY DETAILED MODEL FOR DAZ STUDIO 4.1 WITH IRAY AND GREATER.

DIALS : Select CAMARO Z28 1979/Parameters/All

STEERING:LEFT/RIGHT ( the STEERING WHEEL controls both FRONT WHEELS and the STEERING WHEEL, LIKE IN REALITY )
ALL_WHEELS:ROTATION
LEFT_DOOR:CLOSE/OPEN
RIGHT_DOOR:CLOSE/OPEN

CHANGING THE COLOR IS VERY EASY :
SELECT MAINBODY/PAINT AND GIVE THE SHADER OF YOUR CHOICE
SELECT LEFT DOOR:leftdoor/PAINT AND GIVE THE SHADER OF YOUR CHOICE
SELECT RIGHT DOOR:rightdoor/PAINT AND GIVE THE SHADER OF YOUR CHOICE

The second-generation Chevrolet Camaro is an American pony car that was produced by Chevrolet from 1970 through the 1981 model years.
It was introduced in the spring of 1970.
Build information for model 123-12487 was released to the assembly plants in February of that same year.
It was longer, lower, and wider than the first generation Camaro.
A convertible, which was available for the first generation, was unavailable for the second.
GM engineers have said the second generation is much more of "A Driver's Car" than its predecessor.

The biggest changes for 1979 were the introduction of the luxury-oriented Berlinetta model, replacing the Type LT, and a restyled instrument panel with a much flatter appearance than the previous wraparound design (although the gauges themselves remained in the same places as before).
The base models, RS and Z28 remained, the Z28s now came with a front spoiler and fender flares much like its Pontiac Trans Am twin had, and now came with "Z28" decals that ran from the beginning of the front flares to the bottoms of the doors.
Electric rear window defroster became optional this year, replacing the old blower type.
Sales for 1979 were the highest ever for any generation Camaro before or since, numbering 282,571 units.
Engine choices remained with the 250 I6 standard in the base and RS models, with the 305 2bbl being an option and standard on the Berlinetta.
Home Page: _https://www.renderosity.com/marketplace/products/160112/camaro-z28-1979-for-daz-studio