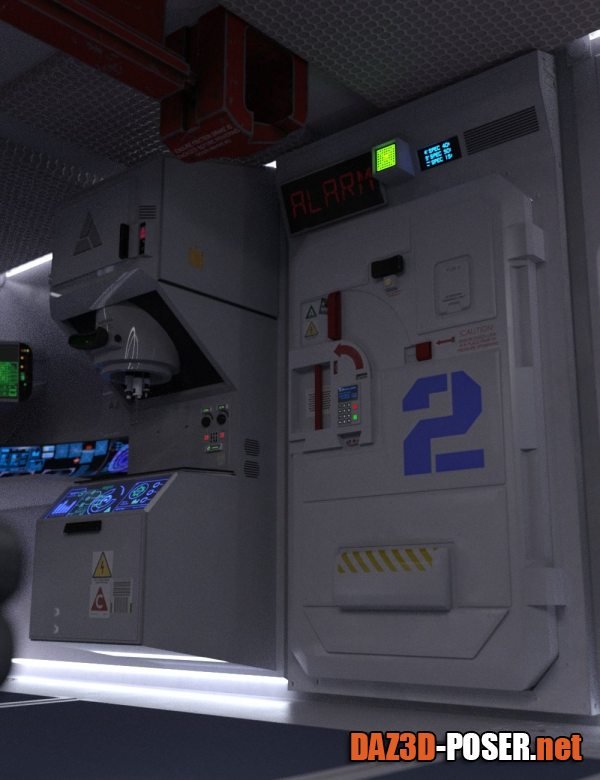 Image: Artemis 13 HAB 2
Title: Props – Artemis 13 HAB 2 – download for Daz Studio or Poser
Description:
Artemis 13 HAB (Habitation) module 2 is one of many compartment modules tailored for scientific research and housing. It is loosely based on the ongoing Artemis Lunar Program.

The Artemis Program was a Sovereign State-led international human spaceflight program. In 2024, various space agencies planned the first launch as part of the first manned return to the moon since 1972.

HAB Module 2 is a self-supporting scientific testing laboratory. The Module includes domestic life support features and a workstation for testing. The module is self-contained and allows for shipment of a tailored, manned module using lunar mode logistic vehicles for placement on the lunar surface. This mode of travel allows for personnel to step into the module on the home planet and complete the entire mission and not step out of the module until it is returned to the home planet's surface. This allows for different mission capabilities without exposing other astronauts to current biological contaminants that may plague the home planet.

The compact size of the module requires features that maximize the space using different configurations. For example, the Sanitary section is configurable based on needs and saving space. A privacy panel opens to reveal a commode stored in the wall. A second panel section opens and a retractable shower head and raised floor pan for showering appear. The same room can add a cryogenic system for long travel (coming soon). There is a dresser/closet for personal effects, and the living area is configurable for sleep or entertainment. A viewing window with configurable vanes is available to view the outside environment.
Home Page: _https://www.daz3d.com/artemis-13-hab-2