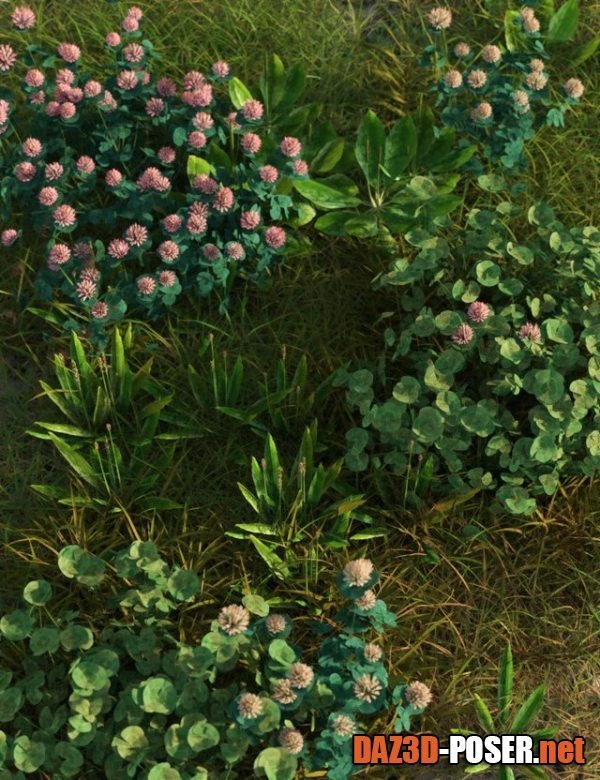 Image: The (Im)Perfect Lawn II- Essential Grassland Weeds
Title: Props – The (Im)Perfect Lawn II- Essential Grassland Weeds – download for Daz Studio or Poser
Home Page: _https://www.daz3d.com/the-imperfect-lawn-ii-essential-grassland-weeds
Description:
The (Im)Perfect Lawn II- Essential Grassland Weeds is the only other bundle of plants you need to create a realistic - if some what neglected lawn! Clover and plantains are the bane of every gardener, rearing their heads in ornamental lawns, meadows, and lawns.

This great bundle of over 20 Plant models of medium detail are perfect for scattering throughout an expanse of grass, adding character to a flowerbed, or poking their pretty heads above cracks in paving.

As always a little variation in Y axis rotation and scale coupled with the material options included, all using Iray's powerful material handling capabilities to give you the most realistic possible plants with as little strain on your computer's resources as possible!

If you own the (im)perfect lawn bundle this is a great addition - and if you don't, it's a great standalone collection of small plants and weeds which will prove invaluable when populating your digital garden, meadow or lawn!

Download links: