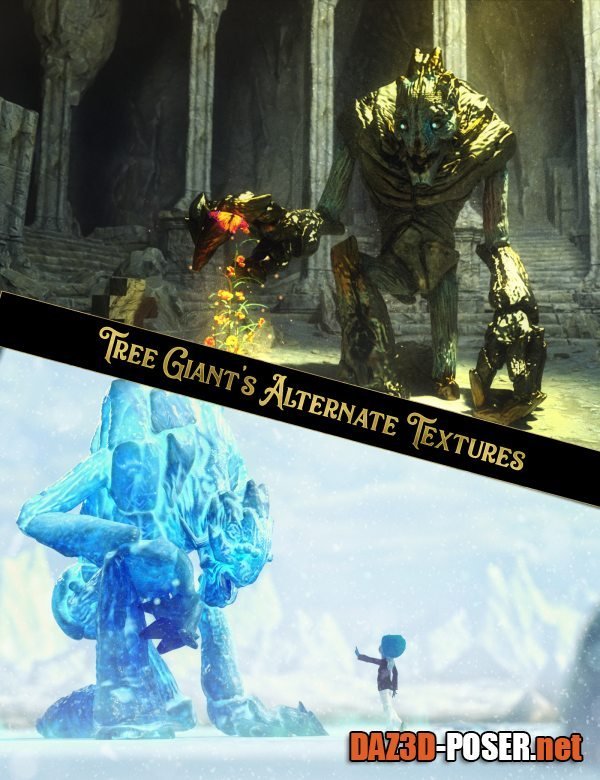 Image: Tree Giant HD for Genesis 8.1 Males Alternate Textures
Title: Textures – Tree Giant HD for Genesis 8.1 Males Alternate Textures – download for Daz Studio or Poser
Description:
Tree Giant's Alternate Textures is a set of 4 full-body textures that alter the original concept of the character by moving him from tree-folk to fearsome golem. Whether you want him to become a beautiful golem of metal or a cold ice giant, these skins will help you cast his role.

Each skin comes with 2 additional variants (save for ice, which only comes with 1) for a total of 11 full-skin Iray presets meant to add even more variations to JoeQuick's Tree Giant HD for Genesis 8.1 Males.

Tree Giant can be portrayed as the guard of a castle, keeper of the death, restless spirit, cave lurker, or sentry of snow. This set of skins will cover a wide range of themes to help you tell your story.

These skins were hand-painted using no references, so it is up to you what type of roles and scenarios you would like them to fill. Whether they will become obstacles, minions, villains, outcasts, vigilantes, guides, or gods, it's up to you!
Home Page: _https://www.daz3d.com/tree-giants-alternate-textures