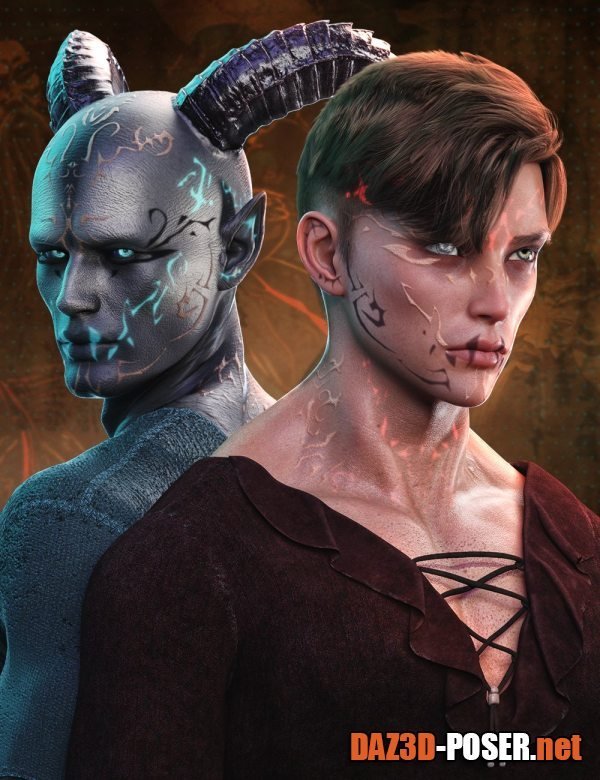 Image: FPE Fantasy Scarification Face Tattoos Geoshell for Genesis 8.1 Males
Title: Textures – FPE Fantasy Scarification Face Tattoos Geoshell for Genesis 8.1 Males – download for Daz Studio or Poser
Description:
FPE Fantasy Scarification Face Tattoos Geoshell for Genesis 8.1 Males consists of rune-styled tattoos applied via 3 geoshells, each providing a different effect: as ink, as glow, and as scars.

By setting things up to apply via geoshells, we not only ensure the final look of the application is maintained regardless of whether your character uses Iray Uber or PBRShader skin, but we also create a non-destructive way of applying said tattoos. The versatility of geoshells allows you to, quickly and efficiently, build, change, tweak, and/or delete the tattoos without affecting or altering your character's underlying skin.

And while the geoshells require Genesis 8.1 Base Male UVs, you can apply these to your Genesis 8 characters by loading/applying them to the Genesis 8.1 Base. Instructions on how to do this have been included!

This pack is meant to match the Genesis 9 one as closely as possible since some details were altered to compensate for the difference in density between the surfaces.
Home Page: _https://www.daz3d.com/fpe-fantasy-scarification-face-tattoos-geoshell-for-genesis-81-males