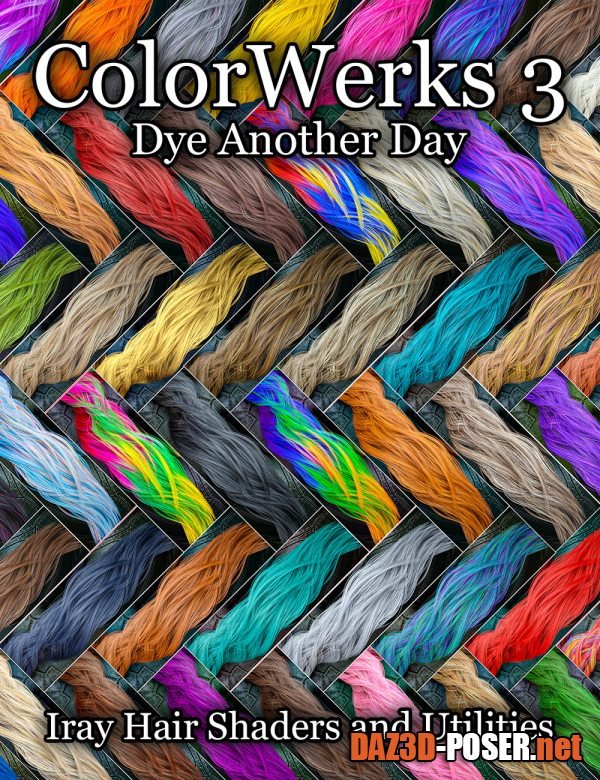 Image: ColorWerks 3: Dye Another Day Iray Hair Shaders
Title: Textures – ColorWerks 3: Dye Another Day Iray Hair Shaders – download for Daz Studio or Poser
Description:
"ColorWerks 3: Dye Another Day" is a set of textures and utilities to "recolor" the amazing hair models in your library. Most hair model products include multiple color options, which is great for that particular hair model. With this product, you are provided with more than 300 different hair textures that can be applied to any model in your collection. You can even combine hair models and seamlessly blend them by applying the same ColorWerks texture across the models. It was designed mainly for transmapped hair, ie. hair that uses opacity maps to define the individual strands, but can also be used on "fiber" hair, as well as eyebrows, beards, etc. Results on fiber hair may be different, however.

Each texture has been handmade with lots of different colors and highlights and lowlights. Combined with the translucency and bump maps, hair is rich and multidimensional. Additionally, ColorWerks 3 comes with a number of utility presets that can adjust the final look of the hair, including bump, shine, and tiling. New to ColorWerks 3 is the ability to lighten or darken the chosen texture to not only add more options but can also help if your scene is very brightly lit by toning down the color just enough to handle the bright lights. You also have presets to lighten or darken the roots or tips of a chosen texture.

Aside from the single color bases, such as "blonde", "brunette", "blue", etc., there are dozens of multicolored special presets, which include fantasy colors, ombres, metallics, and streaks. Swap two ombre colors with a simple preset, or offset the fantasy blends up and down the hair with presets.

The shader settings for ColorWerks 3 have been carefully crafted to give you great color and shine, while presets make it easy for you to adjust these settings without digging into the Surface Pane.

Home Page: _https://www.daz3d.com/colorwerks-3-dye-another-day-iray-hair-shaders