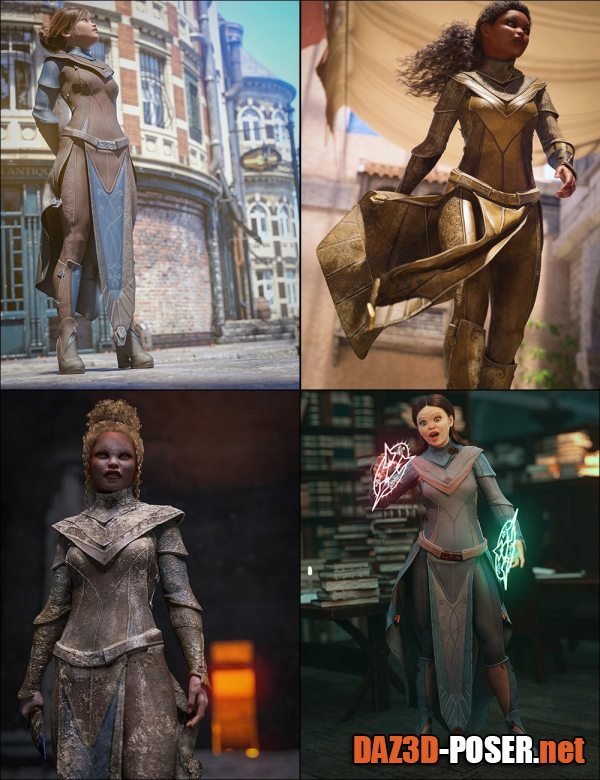 Image: The Hands-On Historian Fantasy Styles for Ekialys' Ny
Title: Textures – The Hands-On Historian Fantasy Styles for Ekialys' Ny – download for Daz Studio or Poser
Home Page: _https://www.daz3d.com/the-hands-on-historian-fantasy-styles-for-ekialys-nyhttps://www.daz3d.com/the-hands-on-historian-fantasy-styles-for-ekialys-ny
Description:
Fantasy, thine name is the Hands-On Historian...

The astounding Hands-On Historian for Ekialys' Ny Outfit set features:

‣ 1 detailed fantasy style

‣ 3 color and material variants: Historian, Magician, Rough Leather

‣ 1 Dungeon adventure option for the main style

With the hands-on Historian fantasy styles we want to offer a new Persona for Ekialys' Ny, more developed than most alternative and fantasy styles.

She is an historian with an encyclopedic knowledge of history and past events both local and far away and with a penchant for research work. An explorer of ancient sites and ruins, which she dives in enthusiastically, never refrained by the thought of them teeming with perils.

The dungeon-adventure style embodies her field work, when crawling under crumbled hallways leaves its mark on one's outfit with scratches, thick dust and the occasional dripping water, which always founds a way through rocks and ruins.

Additionally two alternative colors and material options give this style more breadth in terms of versatility and style, we called them Magician and Rough leather as they sport a "charmed" color palette and a tough and practical look, respectively.
Download links: